Counterpoint Festival - Day Three Recap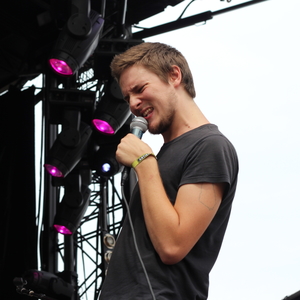 Saturday's lineup diverged from Counterpoint's primarily EDM scene with sets from bands like Toro y Moi and Politica in the late afternoon leading into hip-hop acts like Wale and Atlanta's own Big Boi.
My first stop on the main stage was for Athens band Reptar, an act known for their rowdy live shows and unique stage performances from frontman Graham Ulicny. The band was just coming off of a run on tour with Rubblebucket, which you might have guessed thanks to the Rubblebucket tank Jace Bartet wore for the performance. Ulicny commented that the band was happy to be back home in Georgia, and judging by the involvement of the moderately sized crowd you could tell they were playing to fans.
After Reptar's performance was Polica, the Minneapolis-bred electro-pop group featuring Channy Leanagh from Gayngs, and then indie favorites Toro y Moi to boot.
The next Atlanta-based act on the main stage was Big Boi, a rapper I'll see as many times as I get the opportunity. The thing I like about a Big Boi show is that he doesn't get wrapped up in the concept of playing only his new stuff, or pushing his new material on old fans. Sure, his set included a healthy dose of his solo material, but the OutKast tunes are what had the crowd singing every word.
Following Big Boi on the main stages was Wale. His set echoed over the farm all the way into the various tents and beer stations as several festival-goers sat and caught the latest college football matchup or plotted their next show.
Just as Bassnectar made for Friday's main event, everyone was looking forward to Skrillex's set on Saturday evening. I heard several groups arguing over whether to see the whole set or to opt for Lotus, who was playing a similar time on a smaller stage. In every case, the consensus was the same: you had to at least catch some of Skrillex's set.
Between the lights, loud noises, and faces of the masses pressed against the front barrier by the stage, I could see why Skrillex has been getting so much attention recently. The energy of the entire weekend at Counterpoint Festival seemed to peak, and as Pretty Lights led the rest of the night's artists in closing out the party Saturday eveningt, festival-goers were abuzz with disbelief that the weekend's festivities were already coming to an end.
Others Tagged With