Counterpoint Festival - Day Two Recap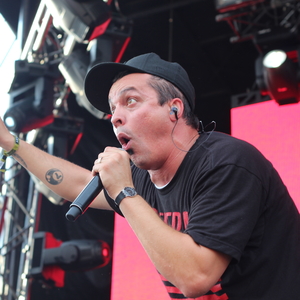 Arriving on the scene a little bit late for day two of Counterpoint Music Festival (I'm sure I wasn't the only one after what I saw on day one), I was just in time to catch Washed Out on the main stage.
One thing that immediately sets Counterpoint apart from many other outdoor festivals is the proximity of the two main stages; the Point stage and the Counterpoint stage sit side by side and the music is non-stop, with one act picking up the party as soon as the one next door lets up. Washed Out picked up their set just after the torrential downpour that hit the festival had paused the music and sent festival-goers out to their cars for shelter.
Thanks to this quick cool-down of the festival grounds, the crowd was mellow as the band played their hit song "New Theory" and festival-goers watched from the grassy hill overlooking the main stages.
Next on the stage was hip-hop group Atmosphere, for which my background information begins and ends with the classic cautionary Pastern press kit tale of moldy lemons and faded gold spray paint. I'll admit, though, that the group was just the breath of life I needed to get into the Counterpoint spirit. The energy on stage was captivating, and I watched old fans sing along and curious newcomers gather drawn by the sheer noise.
Although I peppered my evening with a mindblowing set from Crystal Castles (as if any fan would be surprised by that) and a quick walk through the local Atlanta businesses set up between the Beat stage and the main stages, I got the feeling that the big event for the night would be Bassnectar at 10:15. World-class DJ Avicii kept the masses moving in the meantime, only drawing the stragglers closer in the minutes leading up to the big Bassnectar set.
In a scene I can only liken to Hocus Pocus, the drove of costumed "bassheads" migrating towards the stage seemed almost magnetic. It was as if the entire festival instinctively knew that the main event was about to begin. Lorin Ashton, the mastermind behind Bssnectar, took the stage and the calm subsided as thousands of people went wild for the mixes of one of the most popular names in the genre.
A late night set with Montreal's A-Trak kept the music going at all hours as he turned the Backbeat tent into his own personal dance party, and the day came to close as raging and thunderous as its rainy beginnings.
Others Tagged With