DeLuna Fest Day Three : Photos and Recap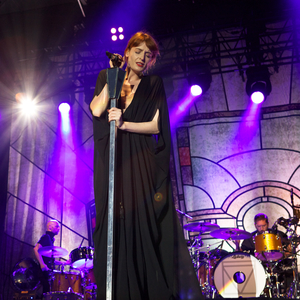 Day three of DeLuna Fest took place on Sunday. If anybody had to work Monday, they showed no sign of concern.
Bob Mould, who took a break from his vacation the night before to play with Foo Fighters, took to the Windcreek stage and was back to work. His powerful voice saturated the grounds. Meanwhile at the DeLuna stage, The Wallflowers were walking out to "Always Be True" by the Beatles.
With the happy melodies and soft vocals of The Wallflowers, it was easy to see why everyone seems to be waxing sentimental for the 90s. When they played "Devil's Waltz," a swarm of millions of dragonflies descended upon the crowd. The audience raised their hands and dragonflies fluttered and landed on their fingers. The dragonflies drifted with the music, floating through the parking lot like a forbearer of something magical.
At the Windcreek stage, Superchunk was setting up to play for a small but dedicated crowd.
When Superchunk's diminutive front man, Mac McCaughan, sang "Crossed Wires" the crowd screamed and jumped with enthusiasm. McCaughan and the pixie-haired bass player, Laura Balance, jumped in unison, like marionettes controlled by the same manipulators.
"Just walking around, I get the sense that terms like weekdays and weekends don't really matter here," remarked McCaughan. "It's like a nudist colony."
"It's like a dragonfly colony," interjected Balance.
There was a clear divide in the crowd between those who came to relive their favorite Superchunk moments and those who were staking out their spots for Florence + the Machine, who were taking the stage next. It was easy to spot the latter – they were the ones reading books or napping in the parking lot.
The stage crew began to construct Florence's set, rolling out a golden harp, tuning a pink guitar and assembling a microphone stand covered in mirrors. They soon raised the backdrop, which was a colorful replication of a stained-glass window.
The backdrop and microphone stand began to glow and the PA system boomed with the sounds of rain and thunder. The crowd shrieked as the five members who make up the Machine walked onto stage in all black, applauding as they took their places.
Florence Welch drifted onto stage, barefoot, her tiny and pale frame draped in sheer black. She stood behind the microphone and smiled sheepishly before beginning the title track of her latest album, Ceremonials.
Welch flitted and flicked her long fingers, conducting the light while the power and of her voice pierced the hearts of her fans. She banged on a tambourine while singing "Drumming Song" and spun across the stage like a jewelry-box ballerina. As she stepped onto the speaker, she casted her eyes fiercely upward and it seemed as if she was levitating.
When the audience broke into thunderous applause, she looked down at them, as if she had forgotten they were there.
"Pensacola," Welch addressed the audience in her thick British accent. "We are looking for a few human sacrifices. If you are with someone and you love them, you like them, you just met them or you gave birth to them, raise them up."
Audience members began to hoist their loved ones and strangers onto their shoulders. It was not hard to believe that this audience would go happily and willing as sacrifices to Florence and the Machine.
"Pensacola, I salute you," commended Welch as she began "Rabbit Heart."
Welch then bounded off the stage and ran by the crowd, flying by camera flashes and outreached hands in a flash of red hair and alabaster skin.
"Now us Brits, we aren't usually known for our public displays of affection," Welched confessed, provoking giggles from her London fans. "I mean, you may not be able to tell from me, but we are sometimes known for our reserve, but today I want you to turn to each other and hug one another, kiss one another, love one another. We'll be watching Pensacola," Welch warned.
Welch sang "Spectrum," and when the lyrics demanded, "Say my name" Welch cast her statuesque hands upward and, as unbelievable as it may sound, the first breeze of the day swept through the audience, blowing Welch's dress and hair.
Welch smiled sweetly, at the audience, after such a powerful performance.
"Until next time, we will have to leave you with this," Welch announced.
They began "Dog Days Are Over," and Welch jumped on the drums, banging away. The set began to look like a cathedral in a thunderstorm and then she disappeared as quickly as she had appeared and the dragonflies seemed to have gone with her. And with that the third and final night of the magical and mysterious DeLuna Fest 2012 came to an end.
Others Tagged With