DeLuna Fest Day Two : Photos and Recap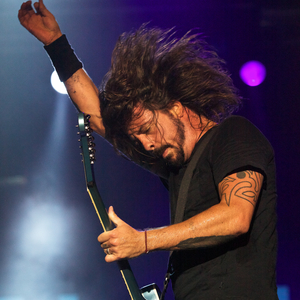 On day two of DeLuna Fest, the breeze was high and the crowd was as thick as the hangover.
Lights Resolve took the GoPensacola stage at 3:30, and it was obvious why the crowd grew. Reich gave a coy nod of approval to bikini-clad members of the audience. They sang "Dreaming of Love" and the lyrics proclaimed "This is the start of something new and different."
Between sets, guests gathered in tents to buy their favorite bands' merchandise or stared at the walls in the "To Write Love on Her Arms" tent. Here, guests wrote their fears and dreams, humorous or heart wrenching. Many patrons chose to pass their time at The Dock, which was a drastically different scene from the rest of the festival. Here they danced to Nicki Minaj, took shots, drank red elixir from giant fish bowls and dined on Frickles and Ranch for $4.50.
The crowd listened to the feel-good country-pop lyrics of local artist Walker Hayes, then shifted across the parking lot to hear the intense-metallic, punk super group OFF!
"You know what's sad?" vocalist Keith Morris asked the crowd. "We are playing right now and Jimmy Cliff is right over there, one of the greatest fucking reggae artists of all time."
Morris urged his audience to head over to the beach and get a "contact buzz." Although many onlookers did as told, others stayed for the performance of "Eulogy," a memorandum to "Elvis from Hell," Jeffrey Lee Pierce.
Down the beach, Cliff was dressed head to toe in red and yellow down to his self-promoting Jimmy Cliff t-shirt. The crowd's hands swayed overhead in complete unison to his rendition of "Wild World." Towards the end of the song, Cliff folded his arms around his chest and looked upward, remaining motionless until the song concluded. When he sang "I Can See Clearly Now," children did cartwheels and built sand castles.
At the Windcreek stage, the sun was setting and the Joan Jett and the Blackhearts' set was rising. The audience was a hodge-podge of soccer moms, punk kids and hipsters, but it was hard to tell which crowd was most excited. Jett bounded onto the stage with her signature tresses and black-on-black attire, looking remarkably unchanged.
When Jett skipped across the stage singing "Cherry Bomb" she was still a devious teen, determined to piss off the world. Jett stripped off her shirt, leaving her in studded, leather pants and a barely-there, black bikini top. If there was a soul in the crowd who hadn't gone crazy yet, they gave in when she began singing "Bad Reputation."
A member of The Blackhearts took to microphone and announced to the crowd that it was Jett's birthday. The crowd sang "Happy Birthday" to a 54-year-old Jett, and she thanked them by singing "I Love Rock & Roll" while people far across the parking lot sang and danced along.
The dreadlocked threesome, Bad Brains, performed in their legendary punk/reggae style, at the GoPensacola stage. Lead singer H.R. looked like a deranged beekeeper with is all-white wedding veil tucked beneath a white Stetson. Between songs he chattered inaudibly into the microphone; the audience could not understand him, but they could not stop listening. It was difficult to determine who was in more of a trance, Bad Brains or the audience.
"We have a new album coming out," H.R. announced in an adopted proper tone. "It is called 'Into the Future' and I highly recommend it. You are going to love it."
He blew an exaggerated kiss to the audience, and it was easy to believe that if the Mad Hatter had been a wedding veil wearing punk and reggae singer, this would have been his tea party.
The crushed beer cans in the parking lot functioned as stepping stones leading to the Windcreek stage, where the crowd was waiting for Band of Horses.
"Everybody needs to thank Joan Jett and the Blackhearts for singing up here," said vocalist Ben Bridwell. "And of course, Bad Brains are right across the way. Two real tough acts to follow."
The beach began to flood with fans expressing their excitement for Foo Fighters. People built mounds of sand to stand on to ensure their view of the stage. They went crazy at an empty-stage sound check, and didn't let their applause falter until Foo Fighters took the stage, when it intensified tenfold.
"You wanna make some fucking noise?" Dave Grohl asked the crowd. "Come on. Let's go."
He then unleashed a metal yell, and they wasted no time beginning the show. They played with a sweat-dripping, teeth-grinding intensity and exhibited more hair flips than a Vidal Sassoon commercial. There was uninhibited screaming and banging. Grohl fed off of the crowds energy.
"This is the kind of place that's fun to play every song that you fucking know," stated Grohl. "I would like to play all the fucking songs I fucking know until I can't play anymore."
The show was a seamless string of hits, from "Monkey Wrench" to "Hero." Grohl lowered his voice to a whisper when singing "One of These Days" and the crowd fell silent, screaming back to life for the chorus. His ability to control the crowd with the volume of his voice is nothing short of wizardly. Grohl took a break to introduce the band, and it suddenly became the Dave Grohl comedy hour.
"If you're nice, he will shred you some crazy-ass shit, 'cause he can do that, he took lessons," Grohl introduced guitarist Nate Mendel. "He's way better than anyone else in the band and he knows it. He gets paid extra."
"Last, but not least ladies and gentlemen, the drummer," Grohl stopped as if that was all the acknowledgment he would give. "Taylor Hawkins from Foo Fighters, in the flesh. You lucky mother fuckers get to see Taylor Hawkins. He is a badass fucking drummer, that's why he is so cool."
Hawkins took it upon himself to introduce Grohl.
"I don't want it. Take it back," Grohl demanded. "Take it fucking back. I never wanted to be famous."
When the band began to play again, they experienced technical difficulties, the sound system went out. What was amazing was that in the loosest sense, they were still audible. The sound continued to break for several minutes.
The Foo Fighters didn't view the power problems as a delay, but as an obligation to rock harder. Grohl informed the crowd that they made their last album in his garage, explaining the inspiration he drew from Bob Mould. He dragged Mould on stage and they performed "Dear Rosemary," after which Grohl made an announcement.
"I can honestly say I'm doing something I've never done before," Grohl told the crowd. "I'm singing happy fucking birthday to Joan Jett."
The audience screamed in shock as Jett walked on stage, strapped on a guitar and took her place at the microphone. At her request Foo Fighters played "Bad Reputation" with Jett on lead vocals.
"The queen of fucking Rock & Roll," Grohl said in disbelief. "I don't know what to say. It's all too much."
Others Tagged With