Music Midtown Day One - Photos and Recap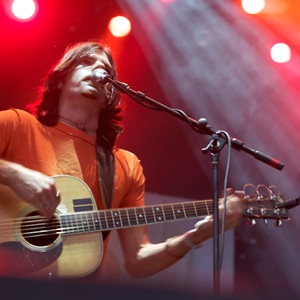 With Foo Fighters and Avett Brothers topping the bill, Atlanta's own Music Midtown kicked off yesterday to an enthusiastic group of thousands (we're guessing in the mid-35s). Day one was defined by its grab-bag of a lineup, which had people drawing for the aforementioned Jett, Foos and Avetts, but also bringing in scattered crowds for Atlanta's own T.I.
Blame it on Atlanta's infamous evening traffic, but we hit the festival grounds shortly before Joan Jett let out her final gritty wail. From what could be heard echoing across the festival grounds and the crowd's consensus, age isn't wearing on Jett one bit; she sounded as strong and commanding from the back gates as she did decades ago.
T.I. sprinkled his early evening set with a sampling of new tracks, which sound a lot like old T.I. With a full band backing up the rapper, the on-stage energy was on point, but the crowd that was already staking ground for Dave Grohl and Co. were a little less than stirred by the set. We heard expected tracks like "Whatever You Like" and "Live Your Life," and T.I. even pulled out a version of Kanye West and Jay-Z's "N***as in Paris." At the end of the day, there are worse things than sitting through a T.I. set.
As the sun started to set, The Avett Brothers took the stage to showcase their latest album, The Carpenter. The North Carolina natives showed plenty of gratitude, calling Atlanta a "second home" on the road. With the intimate nature of their songs and instrumentation, it's a strange experience seeing the band in a venue much larger than a theater, but the guys made it work for them. The band kicked off with "The Fall" and showed that the large, open-air festival space could be commanded in other ways than screeching feedback, roaring guitars or booming bass. We were treated to classics like "Head Full of Doubt/Road Full of Promise," but it was notable how well the band's new tracks are fitting into their catalog, with "Paul Newman vs. the Demons" and "Live and Die" drawing some of the strongest crowd reactions of the night.
But after all, this is a festival that essentially brings a hot Atlanta summer to a close, and it's hard to think of a band that can unite a mass of $8 beer-drinking festival-goers better than Grohl's Foo Fighters. The guys are wrapping their Wasting Light touring cycle to a close, and the time spent on the road (and their one-and-a-half decades together) make them one of the more well-oiled machines on the touring circuit. Say what you will about their recorded output recently, but the band's catalog translates insanely well in this setting, drawing huge reactions from the front of the crowd to those observing on beach towels and lawn chairs. We heard inescapable crowd singalongs in "My Hero" and "One By One," tracks that still had Grohl shredding his voice as if he hasn't been doing this every night. With Jett making cameos at plenty of Foo Fighters shows lately, it seemed natural that she'd take the stage with the Foos, and her contribution to "Monkey Wrench" was admittedly awesome. Love them or hate them, Foo Fighters are a live act that should be appreciated for what they are: A damn good time.
Music Midtown's second day is set to kick off today with Pearl Jam headlining the bill. You can take a look at ticketing options and schedules here.
Others Tagged With