Music Midtown Day Two - Photos and Recap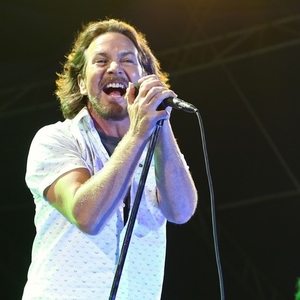 Atlanta's Music Midtown kicked off it's second day yesterday with the announcement that the over 50,000-capacity festival had sold out. The main draw was Pearl Jam, who wowed with an equally lengthy, career-spanning and impressive set.
The festival's stacked lineup kicked into high-gear with an early set from Garbage, which saw an equally moody and energetic Shirley Manson and her band decked out in all black garb during the mid-afternoon heat. This was one of the first chances Atlanta fans had to see Manson and Co. after a lengthy hiatus, and with the return we were met with fan favorites sprinkled among some yawn-inducing new tracks. The group is still tight as ever, and it was also notable for '90s grunge fans to see producer/drummer Butch Vig on the same bill as Dave Grohl's Foo Fighters and Pearl Jam. We also saw the outspoken frontwoman take on a fan who was doodling on an iPad during the set (she later dedicated the next song to multitasking).
Adam Ant was next on the second stage, and aside from his colonial-style getup and nostalgic performances of songs like "Stand and Deliver," the overall reaction from the front row to the beer tents (save a few hardcore fans up front) was not favorable. Ludacris' hometown set that immediately followed had enough hype, laughs and sing-alongs to wash the bad taste out of our mouths. The rapper boasted over and over (we're talking between almost every song, here) that he had enough Billboard hits to fill his hour-long set, which seemed like an exaggeration. But sure enough, he belted out memorable track after track to provide one of the more memorable and fun blocks of the festival. It was also a notable change for his live setup, which saw him adding a full band of keyboards, guitars, horns, drums and a bass.
Florence + the Machine's early evening set got off to an admittedly rocky start, but that didn't keep the group, lead by vocal powerhouse Florence Welch, from picking up steam. With the sun setting at the open-air stage, Welch's aggressive, triumphant approach was in great form on late-set songs like "Shake it Out" (she dedicated that one to the audience's Sunday hangovers) and the obvious closer in "The Dog Days are Over." She was epic, over-the-top, and exactly what you'd hope her to be in a late-summer festival.
Greg Gillis' Girl Talk took the stage next, providing the same show of booming bass; danceable, immediately recognizable mashups; and sweaty dancers as far as the eye can see. Love him or hate him, his grab-bag mashups are incredibly suited for this environment, and his appearance ranked right up there with Ludacris' for an overall fun factor.
But overall, the whole weekend belonged to Pearl Jam, who were just coming off of their appearance at this weekend's DeLuna Festival. They kicked off the set with the roaring "Why Go" from Ten, which celebrated its 20th anniversary this year. "Save You" and "Animal" followed, and the band hardly broke their speed until a heartfelt take on "Elderly Woman Behind the Counter in a Small Town." The performance had all the hits casual fans would hope for with "Even Flow," "Jeremy," "Black" and "Alive," but we also saw Vedder plea for audience members to vote before breaking into a cover of The Clash's "Know Your Rights" and the band closed out the night with their excellent take on Neil Young's "Rockin' in the Free World." With two decades under their belt, it's fair to say that the band's live show is just as well-oiled and vital now as it was in their heyday in the '90s—just look at the proof in the band's incredible on-stage energy (guitarists Stone Gossard and Mike McCready are always a delight to watch go back and forth) and Vedder's lyrics still ringing out as emotionally as they did years ago.