CMJ Day Five - Photos and Recap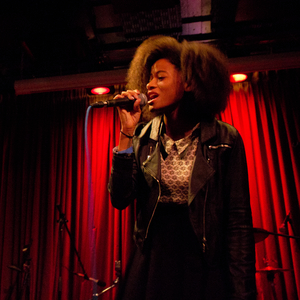 As CMJ drew to a close in the early hours of Sunday morning, I have to say that the festival delivered what I was looking for in its 2012 run: new bands from foreign lands I wouldn't get to see anywhere else, the chance to catch some big name sets in small venues and a smattering of up-and-coming indie geniuses that'll make my life a lot more interesting between now and SXSW season. Here are the last shows that I caught at CMJ 2012. And next year, maybe I'll finally grab a cupcake from Cake Shop or the dumplings from Mission Chinese while I'm running around like a mad woman on Ludlow Street.
REPTILE YOUTH (Copenhagen, Denmark)
Before the lead singer leapt off the stage and sprinted out of Spike Hill onto Bedford Ave as their set concluded, the Danish rockers doled out a hefty helping of straightforward, well-honed power chords that went easy on the ears. I have no idea why that guy ran out—dramatic effect? Artistic differences? Really had to pee? Goofy guy?—but they had people moving at an hour normally reserved for hangovers and greasy breakfasts, so props to them.
STRANGE TALK (Sydney, NSW)
If half your band can't stop smiling throughout the duration of your set, you know you're doing something right—either that or everyone in Australia's just generally happier with better teeth, but you get what I'm saying. Strange Talk were thrilled to be in New York (according to them it's more fun here than in Oz, but I doubt that) and it showed as they plowed through a half-hour sprint of confectionary dance pop.
MIGUEL UNLIMITED (Los Angeles, CA)
This isn't a comment on my taste for electronic music/pop/R&B/rap etc., as I can list off a few shows that didn't have a single rock band on the bill that blew my mind. That being said, there's a switch that gets flipped when I see a performer sing along with a laptop, especially in a festival setting: instead of focusing on their voice and the words they're singing, my initial thoughts stem from the absence of a band behind them and how they're literally just hitting play and that's supposed to satiate us as an audience. For the first time in a long while, Miguel Unlimited changed that up for me as he vocally caressed Public Assembly's at-capacity crowd. In a world where AutoTune is used and abused in every genre, those artists who not only hold their own but have the power to define the standards of the industry are those who just need a microphone and a warm-up before they hit the stage. Miguel's that kind of guy, and despite the fact that it was just him and a laptop, the sound was hardly incomplete.
DIIV (Brooklyn, NY)
These guys have two passions: heady, mesmerizing shoegaze-y goodness and sweatpants. Both were done justice at the 92Y Tribeca as the crowd crushed in for an up close and personal moment with songs from their Oshin, their debut out on Captured Tracks. I'm partial to "Doused" myself and the '90s alternative ghosts it conjures up in the four minutes and change it runs, especially because the live rendition eclipses the already stellar track.
Others Tagged With