CMJ Day Three - Photos and Recap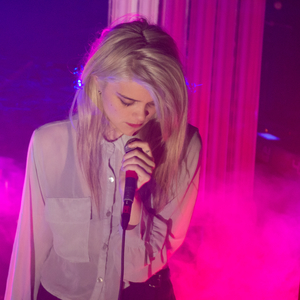 Day three at CMJ was a lesson in loving independent record labels. Between Old Flame Records and Merge Records, the majority of the bands I'm frantically scrawling on my "LISTEN! NOW! LOUD NOISES!" list I came across for the first time at their CMJ showcases—namely Turf War, You Won't and Mount Moriah. Sandwiched in between dance parties and musings on the electronic spectrum, these bands stood out for their enigmatic live shows, their senses of humor, their ease with the crowd and their incredible songwriting. So, basically, thanks Old Flame and Merge! Demonstrated by your rosters, y'all have got great taste.
WILD CUB (Nashville, TN)
You know what I totally wasn't expecting out of a Nashville band? A really ferocious dance party and hip checking worthy of a samba showcase in São Paolo. Wild Cub delivered both, and it was a pleasure to see Keegan DeWitt—who I last saw scoring movies and performing out as a solo artist on piano and guitar—matched in boundless energy by an equally insatiably talented band. The last time Wild Cub played New York, someone jacked their van an hour before their show and racked up a grand in damage to it while they fled in a panic to the Union Square Guitar Center. Thankfully, their CMJ 2012 showing was a much warmer welcome to New York for them, and I wouldn't doubt it if they're collecting fans like baseball cards by the end of their stay here this time around.
Listen to Wild Cub's "Wild Light"
YOU WON'T (Cambridge, MA)
These guys dropped their gear and dove into the crowd at one point, hopped up on chairs in the middle of the bar, whipped out a saw, a harmonium and (kid you not) a set of wind chimes that looked like they were jacked from somebody's mom's front porch and completely mesmerized the upstairs bar at Pianos with an intimate, unplugged serenade. I've never heard a two-piece produce such a complete sound between the pair of them, and You Won't—whose debut is out now on Old Flame—held their own with ease.
SKY FERREIRA (Los Angeles, CA)
I'm not ashamed to admit it: the only reason I knew who Sky Ferreira was is because I follow Terry Richardson on Tumblr. This girl looks and sounds like a modern-day Jem who favors pop-rock with an electronic twist, and she looks like she could star in her own manga about her musical adventures. That being said, the girl's substance extends beyond her looks and the crowd legitimately screeched with glee when she introduced her hit off her Ghost EP, "Everything is Embarrassing."
MAC MCCAUGHAN (Chapel Hill, NC)
Hey Superchunk fans, Mac played "A Small Definition" for the second time ever live (according to him). I walked in just before he finished, but made it in time to see the padre of Merge Records share a few hopeful Superchunk releases along with his solo material.
ELEANOR FRIEDBERGER (New York, NY)
Though it took the Fiery Furnaces singer a minute to quell nerves and remember the words to some of her songs, Eleanor Friedberger's brand new yet-to-be-released material stunned as she sang her way through selections off her upcoming album. She's also just generally a badass who knows her way around lyrics that say anything better than we could, and her camper guitar is the stuff of gear geek dreams.
MOUNT MORIAH (Durham-Chapel Hill, NC)
"Why are there no banjos in Star Trek: The Next Generation?" "I don't know James, why?" "'Cause it's the future, man." If things don't work out in the music world for Mount Moriah's drummer, James Wallace, he could always fall back on his burgeoning comedy career. (James, please don't quit the band and do stand-up.) The banter between the latest Merge signees was endearing enough, but Mount Moriah stunned with "Social Wedding Rings," "Plane," "Lament" (which Kelly from The Rosebuds gushed about after the song was dedicated to her) and other tracks off their recently released self-titled LP.
Check back throughout the week as we continue to recap CMJ 2012. For of-the-minute show updates from New York, follow Hilary Hughes on Twitter at @hilmonstah.