Fun Fun Fun Fest 2012: Day One Recap - Run-D.M.C., X, Superchunk and Ranting Val Kilmer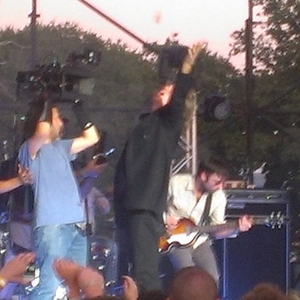 Val Kilmer got on stage with the Black Lips at Austin's Fun Fun Fun Fest on Friday, ranted about God and the death of rock and roll, set an amp on fire and then cut his shoulder-length hair off with a knife and threw the hair into the audience.
Fans who had been paying attention to rumors knew that Kilmer was shooting a scene for an upcoming yet-untitled Terrence Malick film set in the Austin music scene (Rooney Mara was on guitar; Michael Fassbender (!!!) stood stage right in sunglasses), but that didn't make it any less weird. Before filming started, Kilmer asked the crowd if they wanted to hear any Doors songs (LOL), introduced the other celebrities on stage and launched into his portrayal of a character that we can only speculate is an aging, losing-it rocker. Mazel tov to the Black Lips for scoring the gig as his backing band, we guess.
But this kind of thing wasn't actually all that bizarre for Fun Fun Fun, the growing music festival now in its seventh year that has become a fan favorite for featuring things like air sex championships, a fan wedding officiated by Henry Rollins and the world's first taco cannon. It's actually the Malick crew's second visit to the fest — last year, Malick brought film castmember Ryan Gosling, who was blessedly all over the grounds all weekend. Even Fun Fun Fun's snafus seem to earn a positive spin; when Glenn Danzig complained about the (not actually very) cold weather in 2011 and almost refused to play, fest organizers Transmission Events wasted no time in spreading the highly fantastic story about Danzig's meltdown and demands for French onion soup. By all accounts, promoters James Moody and Graham Williams treat artists well and have built a tour stop desirable enough that they don't need to put up with that kind of thing to book great bands.
And book great bands they have. In addition to the Kilmer interlude, Friday's lineup included top-shelf sets by Santigold, Municipal Waste, Bun B, Torche, Icona Pop, Tomahawk, Against Me! and punk pioneers X, who performed all of their 1980 debut album Los Angeles. Veteran rocker Bob Mould ignited the Orange stage with a full performance of his band Sugar's 1992 debut Copper Blue, featuring a tremendous set of wailing by drummer Jon Wurster, who did it all again with the always awesome Superchunk an hour later (also on Thursday night, Wurster performed with Mould at a 7 p.m. taping of Austin City Limits, and then ran across town to the Mohawk club for a 10pm set with Superchunk. The Wolverine of drummers, that guy.)
Friday night culminated in a headlining reunion of rap legends Run-D.M.C., who filled the gap left by dearly departed DJ Jam Master Jay with his two sons, DJs DasMatic and JMJ Son. Between intensely satisfying renditions of hits including "It's Tricky," "Sucka MCs" and "My Adidas," Rev Run reflected on the early days of the group, back when they'd get attitude from club managers because "Jay was the whole band." Darryl "D.M.C." McDaniels didn't talk much outside of rapping, but looked pretty fine at L.L. Cool J levels of jacked in a Nirvana t-shirt and fedora. The only disappointment was the abrupt end of the set at 9:30, 20 minutes earlier than scheduled — according to a bystander who had seen the setlist, the group performed everything as planned, but possibly flew through it a little too fast.
Fun Fun Fun Fest continues through the weekend, with Saturday sets by Girl Talk, A$AP Rocky, Refused, Diamond Rugs, Wavves, The Head and the Heart, Kreayshawn, comedians Wyatt Cenac and David Cross and many more. Sunday acts include Edward Sharpe and the Magnetic Zeros, De La Soul, Fucked Up, Japandroids and Titus Andronicus. If you're in Austin, some tickets are still available at FunFunFunFest.com.
Others Tagged With