Fun Fun Fun Fest 2012: Day Two Recap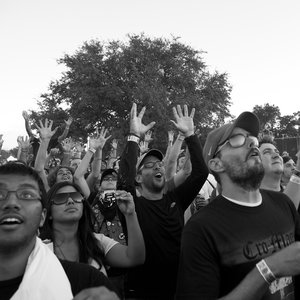 In 2011, Austin's sixth annual Fun Fun Fun Fest moved from the city's small, tucked away Waterloo Park to Auditorium Shores, a sprawling greenspace along Lady Bird Lake downtown. Well, theoretically green—the ground cover had worn such that the dirt underneath was turned up, and thousands of feet created massive clouds of dust that hung thick around boots and heads. But instead of complaining or leaving or demanding refunds, most fans in attendance used the conditions to develop a fashion movement of every variety of face bandana, such that the whole place looked like a convention of creative train bandits. This year, the grass was newly planted, but many people were continuing the trend as of opening afternoon on Friday, wandering through relatively clear air with faces covered in solidarity.
By Saturday, though, the bandanas were a little more utilitarian, as Friday night had drawn more feet to the fest than in any previous year's first night. Fun Fun Fun 2012's second day didn't have the glitz of a raving, hair-cutting Val Kilmer (although director Terrence Malick's crew was spotted toting gear in what looked like a baby carriage), but did have plenty of the music that everyone came for.
Sparsely attended but very much worth noting was the Orange Stage's first set of the day from The Golden Boys, a local Austin rock band who put out one of this year's very best but underhyped records, Dirty Fingernails. It's hooky, raucous, vintage garage that the band played full throttle, even though only a couple dozen people managed to get out of bed for the 11:50 a.m. set.
More fans had made it onto the grounds for a set by Deathfix, the current project of Fugazi's Brendan Canty, who sang about the houses he wishes he was in including Louis C.K.'s, Kanye West's, Heidi Klum's, Steve McQueen's, James Murphy's ("it seems like Daft Punk is always playing there") and of course, yours.
Over on the Blue Stage, Anamanaguchi cranked out 8-bit punk party tunes (that's not some kind of oblique music writer description, as their music is literally made to sound like it's the house band for Nintendo's Mushroom Kingdom, aptly described by one of our Twitter followers as "Reddit rock"), followed by a solo set from Run-D.M.C.'s Darryl "D.M.C." McDaniels and love-her-or-hate-her rapper Kreayshawn.
A major highlight on the Yellow Stage was the performance from Nomeansno, a Canadian band founded more than 30 years ago on a cocktail of punk, jazz, funk, new wave, prog and a clearly unmatchable discipline that has kept them tight and relentless (six hours earlier, Brendan Canty had noted on stage that Nomeansno was the set of the fest not to miss, and he was right).
Saturday night's headliners were split between acts of the very now (Girl Talk, A$AP Rocky) and a long-loved nostalgia draw similar to Friday night's Run-D.M.C. reunion (Public Image Limited, reunited hardcore favorites Refused). Girl Talk a.k.a. Gregg Gillis pumped up his can't-lose non-stop hits mashup formula with exploding streamers, jack-o-lantern stage graphics (it's November but ok), and an all-welcome onstage dance party. Public Image Limited's John Lydon, a.k.a. the Sex Pistols' Johnny Rotten, totally embraced Fun Fun Fun's nautical theme with a naval captain's jacket and what looked like fish netting behind a giant PiL logo; we wonder if he thought everyone was supposed to do this. And then there was rapper A$AP Rocky, who took a break between songs to ask a girl her name, complain that he couldn't pronounce it, and then ask her if she'd be interested in doing something we dearly hope she wasn't.
Fun Fun Fun Fest wraps up with a final full day on Sunday, featuring Edward Sharpe and the Magnetic Zeros, Norwegian band Turbonegro, De La Soul, Japandroids, Atlas Sound, …And You Will Know Us by the Trail of Dead, The Promise Ring, Titus Andronicus, comedians Eugene Mirman and Doug Benson and more.
Others Tagged With