Fun Fun Fun Fest 2012: Wrap Up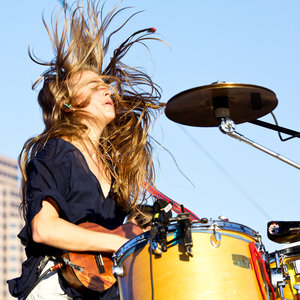 During Run-D.M.C.'s headlining set at Austin's Fun Fun Fun Fest on Friday night, Rev Run gave a shout out to "Graham and Moody for bringing Run-D.M.C. back together." Indeed, the festival organizers had done what few fans thought would ever happen: convince the pioneering hip-hop group to come out of retirement 10 years after their last show and the death of DJ Jam Master Jay. Run-D.M.C. then booked a set at Philadelphia's Made in America fest in September, but it was Fun Fun Fun that got the ball rolling.
It wasn't the first time, either. When Devo was forced by injury to cancel their headlining set in 2010 mere days before the fest, Graham Williams and James Moody scored more than just an acceptable substitute: they brought in influential punk band the Descendents for their own first performance in a decade. Even when the headliner isn't a reunion coup, Fun Fun Fun has built something of a niche around giving fans access to their long-time favorites: Slayer last year, "Weird Al" Yankovic the year before that. It's one of the things that gives the event its unique character in a crowded field of U.S. music festivals, many of which often have barely distinguishable lineups in a given year.
Another thing is the massive skate ramp built like a pirate ship. And the world's largest taco cannon. And the mechanical bull. Organizers this year also turned the city's 10 p.m. curfew at Auditorium Shores into lemonade by booking FFF Nites, a full line-up of aftershows at the city's downtown clubs, which also helped bands make the most of their trip to Austin.
The seventh annual Fun Fun Fun Fest also enjoyed its largest attendance to date; final ticket sales for Friday night were nearly 15,000, compared to 12,000 on Friday night the year before, and Moody expects Saturday and Sunday calculations to have a similar result. Auditorium Shores can hold up to about 30,000 people, and organizers hope to grow to about 20,000 per night over the next several years and then stop so that it doesn't get too uncomfortable.
The festival finished strong on Sunday with stellar weather and few hiccups, other than a cancellation by rapper Rakim due to Hurricane Sandy-related complications (it worked out, though — Omar Rodriguez Lopez of the Mars Volta/At the Drive-In had been forced to cancel his slot on Friday after a van breakdown, but was mobile in time to fill in yesterday).
Daytime highlights included Bleached, the Los Angeles pop-punk sister act of Jessica and Jennifer Clavin whose sunny throwback rock got its start when their guitarist dad needed someone to play bass under him. At the same time, all hell was breaking loose at the Blue Stage, where New Orleans bounce rapper Nicky Da B got dozens of hands on the ground and asses in the air on stage and in the crowd.
Country rock institution Giant Giant Sand, led by prolific Tucson singer-songwriter Howe Gelb, delivered a meaty, resonant serenade to not as many people as it deserved; at one point, band member Jon Villa went from playing trumpet with one hand and percussion with another to taking lead vocals in Spanish. Later on the Yellow Stage, alt rockers …And You Will Know Us by the Trail of Dead exploded their hometown crowd with monstrous guitar climaxes and several new songs from their eighth album Lost Songs, released last month.
As the first night of Central Standard Time's early darkness fell, Texas guitarchestra Explosions in the Sky put fading festgoers into a meditative state, while De La Soul kept a crowd waiting until 15 minutes into their set time for a string of hip-hop classics. Uplifting, many-bodied indie favorites Edward Sharpe and the Magnetic Zeros shut down the fest and the main Orange Stage on an energizing note.
Fun Fun Fun Fest in the Texas heat felt far removed from the hurricane disaster in the East and tomorrow's presidential election, but you can always count on the comedy tent to remind people what's important, as Eugene Mirman urged turnout at the polls while mocking profile pictures on the Tea Party's website: "Here's a couple who loves Fall, but hates the Department of Education!"
Until next year Austin, and don't forget to vote.
Others Tagged With