Iceland Airwaves: Day One Recap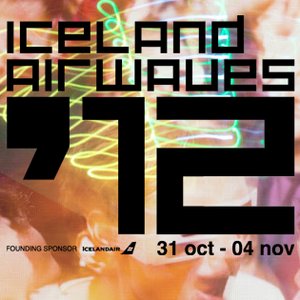 I arrived in Reykjavik early Thursday morning, and I can confidently report that it is cold and bone-chillingly windy here. So windy, in fact, that it is at times literally impossible to walk into the blustering gusts. It was only appropriate that the first show I attended was the Icelandic band Retro Stefson playing outdoors at the smallest Iceland Airwaves off-venue, a tiny red house in Ingólfstorg square in downtown Reykjavik. Airwaves features many off-venue shows during the daylight hours. These should not be missed, as they offer chances to see some great bands play in intimate and sometimes quirky settings. Retro Stefson played its excellent Brazilian and Caribbean influenced electro-pop-R&B from within the tiny house as a crowd gathered in the cold just outside. It was amusing to hear singer Manuel Stefánsson talking in between songs without actually being able to see him. Next up was a sort of speed dating event at the Borg Hotel hosted by Iceland Music Export, where press sat at tables while various band members sat down to talk until a gong sounded and they switched places with someone else. Lots of cards and promo CDs were exchanged, and the proof that Icelanders are an extremely friendly people was furthered.
As it began to get dark, I wandered over to a bar to see Canada's The Barr Brothers perform a set of bluesy rock featuring a harp player in an outdoor tent. After a Viking beer, the ubiquitous beverage throughout the city's many drinking establishments, I had a traditional Icelandic meal including the dreaded hákarl, which is the famous fermented shark that has been buried and hung to dry for several months. The intensely sharp ammonia smell and taste was difficult, to say the least. As I finished my meal, an Icelander noticed me looking at the upcoming schedule and dropped by my table to offer his recommendations and opinions. Reykjavik is a very small city with a population of only around 120,000, and it seems like at least a third are in bands. The music scene is vibrant here, so it wasn't surprising that a random stranger would happily offer his thoughts on which bands were not to miss to an American writer gagging on fermented shark.
Part of the fun of Airwaves is scurrying back and forth between venues to catch different bands' sets instead of remaining at one venue for the entire night. As I mentioned before, the city is very small, the downtown area even smaller, so this is an easy feat to accomplish, wind and cold be damned. I started out at the beautiful, new, glass-enclosed concert hall, Harpa, where I saw Skálmöld, an intense Viking death metal band who melted faces with withering power chords and guttural, throaty vocals. I meant to catch Phantogram at the Reykjavik Art Museum, but the line was way too long and the wind way too strong, so I headed across the street to Deutsche Bar to catch Halleluwah. This Icelandic hip-hop trio uses samples, drums, and bass guitar to back a surprisingly good MC who speaks and raps in weirdly American-accented English. Icelandic hip-hop always seems to be a lot better than one might think. Gang Related, an Icelandic indie-pop band making sounds that are reminiscent of Oberhofer and The Futureheads, played an engaging set of jerky rhythms and three-chord ballads across the street at Amsterdam. Then back over to Deutsche Bar to see hip-hop artist Gísli Pálmi. This guy looks like a Sacha Baron Cohen character or a member of Die Antwoord, with his dark sunglasses and a mullet-fade combo. He raps in Icelandic, which is pretty cool to hear, and admitted that he's "not very good with the English, but I try." He didn't need "the English" at all, however, as he rhymed in a hushed David Banner style over extreme, bass-heavy samples. The night ended with two touring bands: Purity Ring over at the Art Museum – fun and energetic, like an amped up Yacht, but not enough power in the vocals – and Seattle's Shabazz Palaces, who seemed a little cluttered and weak after the Icelandic hip-hop I had already seen. Just another surprise of the long, cold evening, and I'm hoping for many more on night two.
Others Tagged With