Iceland Airwaves: Day Three Recap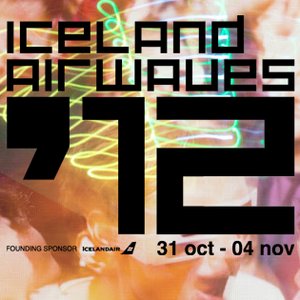 My final night of Iceland Airwaves started off with a short visit to the art museum to see Kwes, a London based singer-songwriter backed by drums, keys, and a sampler, who plays spacey, ambient rock, probably something fans of Radiohead would enjoy. Normally, I would mean that as a slight, but Kwes put on a pretty solid show. From there, I hustled across the street to catch Ghostigital at Deutsche Bar. Lead by the irascible Einar (formerly of The Sugarcubes, currently a brilliantly farcical city council member), the group creates irreverent, electronic screeches and nods to hip-hop and early post-punk. This is the anti-Anticon, as Einar belted out suggestions and questions like, "Sniff the person next to you!! Do you like it?!" Not so much, but the music was great.
Back across the street to the museum for the brilliant Icelandic rock band Sin Fang. The group makes interesting, textured, modern indie rock that goes from soft to loud, from high peaks to low valleys—but let's be clear, the band's music is not emotive, not emo. A brisk walk took me to Idno, the first time I'd been to this venue at this year's festival. Sweden's I Break Horses began their set in the lovely old building along the city pond, playing electronic music instead of triggering it. Drums, guitars, and layers and layers of keys and sequences filled the room, occasionally descending into buzz-saw basslines, but mostly uplifting the audience with floating, intensely practiced shoegaze. Afterwards, it was back to Harpa for some Euro-trance face melting from Icelandic e-music superstars GusGus. The room was jam-packed with jostling dancers, who responded rapturously to the rises, falls, and breakdowns as two vocalists distracted from what otherwise was a sometimes-enthralling set. And finally, I was off to catch Bjork's son, Sindri Eldon, for a 2am show at Amsterdam. The scene was weird, with security tackling a violent drunk outside on the street and a general buzz that Eldon's famous mom was flitting around the room. The trio played a set of loud, brash, bar rock – simple, sprightly, and satisfying with the energy of a late-'80s Dinosaur Jr. show.
And that's it for me this year (sadly, I'll be missing Sigur Ros's show this evening). One of the best things about Iceland Airwaves is its compatibility with today's short-attention spanned concertgoers. Who has the time to sit through an entire set? Of course, you can do that if you want, but the real thrill of attending Airwaves is seeing 15 minutes of one band, running out the door and down the street in the gloomy chill, bursting into the next venue and putting in another 15 there. Don't be late, as Airwaves runs a pretty tight ship, never leaving the audience waiting well past the printed start time with aching legs and increasing inebriation.
I hate music festivals, but I love Iceland Airwaves. The thrillingly blustery weather, the friendly people, the convivial atmosphere, the excellent selection of bands – if you're going to subject yourself to music festival mayhem, I strongly suggest that it be this one. So a big "skal" to Iceland as another amazing Airwaves went off with very few hitches and an abundance of memorable moments. See you next year.
Others Tagged With