Iceland Airwaves: Day Two Recap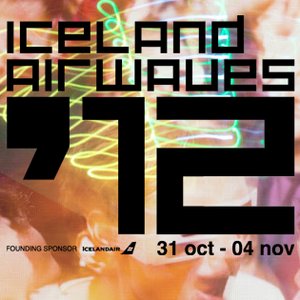 Friday night's bonanza of shows was preceded by such strong winds that bus service to certain areas surrounding Reykjavik had to be halted and some streets were temporarily closed off to pedestrian traffic. But this is Reykjavik, a city that is used to the occasional extreme weather event, and natives and visitors seemed to take it all in stride. During the day I attended an event at city hall where perhaps the most surreal press conference I've ever witnessed took place. Mayor Jón Gnarr (a comedian known for sometimes dressing up as Obi-Wan Kenobi) and city council member (and former Sugarcube) Einar Örn Benediktsson, both members of the satirical Best Party, skewered themselves and the political process while genuinely welcoming the visiting journalists to their city. After scarfing down some hot dogs – Reykjavik is known for an excellent version of this beloved meat in tube form – the time drew near for some rock action.
First I headed over to Harpa concert hall to see the French band Cercueil. The trio glimmered in the darkened room, playing equally gloomy but emotional electro-pop built upon guitars, bass, drums, and keyboards. The band churned out beautiful drones and jagged melodies to an enrapt audience as eerie desert scenes flickered on a screen behind them. Next I headed to a different room within Harpa to see Iceland's Kiriyama Family, a soulful, earnest rock band that employs several keyboards to create their sound. Decent songs, but no fireworks – it was time to head back out into the cold.
I walked over to Faktory to check out Iceland's Hermigervill. This one-man band, attired in a scruffy beard and even scruffier snow hat, put on a spectacular show of dub-electronic-acid house fusion. No laptop fiddling here; Hermigervill rocks a theremin and twists countless knobs to bring his music to life, which ranges from electronic easy listening to hard, hard breakbeats. Catching a breath, I scooted over to Deutsche Bar where I saw Tilbury play, another Icelandic band that has studied how to exactly hit the pleasure zone of rock music. By this I mean the band's well-crafted indie-pop songs lilt and croon, with a trombone solo thrown in now and then for good measure, but often stay within an area of comfort that can become a bit boring. So it was off to the Reykjavik Art Museum to catch Mammut – which turned out to be a mistake. The band focuses too heavily on rock theatrics, with melodramatic vocals caterwauling across the room, stage lights flickering, and each song reaching for an epical level that is greater than the one before.
It was getting late, but there was still time to squeeze in a few more. I headed back to Deutsche Bar to finish out the night, first catching Portland, Ore. band Blouse, one of two winners of a Reyka Vodka contest that brought bands over to play the festival. Blouse makes nice but ultimately forgettable, sweetly sung indie pop. The band's set was simple and effective, but felt like it needed an injection of energy, a hit of some exuberance. That came in spades when Moonface with Sinai took the stage, the latest project of former Wolf Parade/Sunset Rubdown member Spencer Krug. His trademark, intensely weird and spindly songwriting, was tempered by the expert droning of Finland's Sinai, which acted as his backing band. This was mystical, rocking, snake charmer music that had the crowd swaying and shouting for more. Finally, Reykjavik's very own Reykjavik! took the stage, one of my favorite acts the last time I was here in 2007. This metal/post-punk outfit is brash, narcissistic, and wildly ebullient onstage, always having a good time, always putting on a good show, always leaving you wanting just a little bit more. Tonight, however, there would be no more, so I headed home to catch a few hours of sleep before my final night in Iceland.
Others Tagged With