Photos: He's My Brother, She's My Sister - Atlanta, Ga.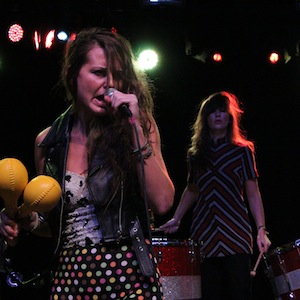 Los Angeles, Calif. band He's My Brother She's My Sister has just completed a fall tour across North America. Riding the momentum from the recent release of their debut full length, Nobody Dances In This Town, the folks in the band brought a unique chemistry to the stage complete with glitter, polka dots and even a tap-dancing drummer.
"I've tap-danced since I was little, and then with the band I would tap dance along with the drummer. Then the drummer left, and then it just evolved into this thing right now," said drummer Lauren Brown.
On stage, she stands on one drum and taps while she plays the drum set.
"I can understand rhythm with my feet, but it's a whole different thing when it's your hands. You have to teach yourself to express yourself in that way," she said.
She's clearly taught herself well.
"She worked at it for months. In the studio, day after day, just drilling like a drill sergeant," commented Rob Kolar, the 'brother' of HMBSMS. "But she was her own drill sergeant."
Before the group took a break from touring, Paste caught up with them at Terminal West in Atlanta, Ga on Nov. 1. Check out the photos below.
Others Tagged With