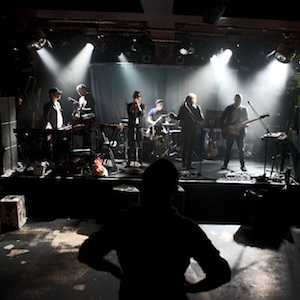 Halfway through their European tour, Canadian band Stars played for a passionate crowd at La Maroquinerie in Paris, France. Despite near-constant touring since early September, these rock veterans showed no signs of the road.
Before starting the show, band members explored the neighborhood, stepping into a small bar for wine and calvados. Stars brought their well-honed music and stage presence to an excited crowd of expats and local parisians. Fans in the front row could be seen reaching out to frontman Torquil Campbell and stared in breathless excitement. The performance reached its energetic climax with Campbell jumping into the crowd, running up and down a corridor formed by fans.
Paste spent the day with Stars in Paris. Check out the photos in the gallery below.