Photos + Review: St. Paul & the Broken Bones - Birmingham, Ala.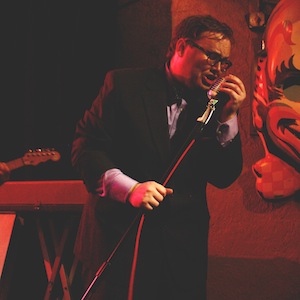 Until The Alabama Shakes entered the national circuit, the band's home state hadn't really been a touchstone for great American music since the heydays of Muscle Shoals. In fact, when I moved here last month, I typecast the state as the Southern Bible-thumping sister to Footloose's Bomont. Enter St. Paul and the Broken Bones—a group of college students flipping stereotype on its head and delivering a hearty dose of soul (and dancing!) to the Deep South.
Less than a month before the move, I fatefully walked into a venue in Chattanooga, Tenn. during the middle of St. Paul and the Broken Bones' set and was immediately hooked. The group hasn't even celebrated its first birthday, but has generated a cult-like local following, a big name support system and the praise of NPR's Ann Powers. Fronted by soul-singing powerhouse Paul Janeway, the six-man band boasts an impressive horn section by Allen Branstetter and Ben Griner, as well as a coolly nostalgic sound that harkens back to the doo-wop era my generation can only recognize second-hand.
I had the chance to catch them playing Birmingham's Bottletree Café on January 24th to a sold-out room of fans ranging from millennials to baby boomers, and they've reached such a wide demographic because the performances are truly a spectacle. Janeway has the charisma of a televangelist with the moves of a modern Charlie Chaplin. As a CEO (Christmas and Easter Only) church-goer, the show left me feeling like I had just attended the strangest service I'd never been to. But that seems to be the intent. As the band's bio professes, they're really just "looking to get cabooses shakin', faces meltin', and brothers and sisters everywhere testifyin'." Consider me a convert.
Although Janeway clearly garners the most attention, dressed as a modern-day dandy and wailing hot soul, the instrumentalists are true masters of their craft. Guitarist Browan Lollar, bassist Jesse Phillips and drummer Andrew Lee are former members of popular local bands, while the horn section is classically trained. This level of talent gives them plenty of room to play around, and it's obvious they're all constantly putting on their best show to date. Midway through the set, Janeway reached for the microphone and told the audience, "You know, I like you guys." And the feeling's clearly mutual, as when he announced the last song the crowd erupted into protest shouting, "One more! Three more! Bonus round!"
Their EP, Greetings from St. Paul and the Broken Bones was released in November, but the band recently finished recording their first album on Single Lock Records. We can expect that record in late April or early May. But if you're below the Mason-Dixon line, they'll be playing regularly around Alabama and Tennessee, including a visit to Chattanooga for Scenic City Roots on Mar. 7th. So while I generally don't condone cult activity, I urge you to drink the Kool-Aid and give a listen to what Birmingham and I can't seem to get enough of.
Others Tagged With