Sundance 2013: Day Two - Mud, Dave Grohl, & fun.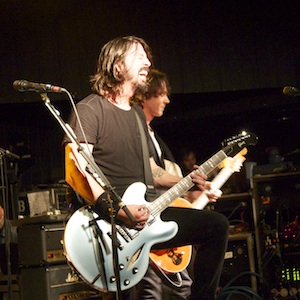 Our second day of Sundance began at a screening. Jeff Nichols' Mud stars Matthew McConaughey, Reese Witherspoon and Tree of Life's young Tye Sheridan. It's a sweet coming-of-age story full of humor and poignant drama. Both Paste film editor Michael Dunaway and I enjoyed it immensely.
The evening was filled with music, first a 15-minute gondola ride to the Brita FilterForGood party with 1-2-3 GO!, a cover band comprised of Dave Matthews Band's Stefan Lessard, Pearl Jam's Mike McCready and Fuel's Brett Scallions and Kenneth Schalk. We spoke with fun.'s Nate Ruess at the party.
Later, Dave Grohl served as MC at Park City Live for an amazing line-up of music tied to Grohl's directorial debut at Sundance, Sound City. Joining Grohl on stage at various times were his Nirvana bandmate Kris Novaselic; members of Foo Fighters, Slipknot, Cheap Trick; plus Rick Springfield, John Fogerty and Stevie Nicks.
Others Tagged With