Photos: Alt-J - Paris, France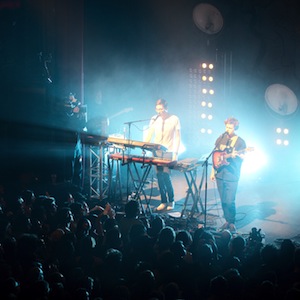 For their second show in Paris, Alt-J played to a sold-out crowd at La Cigale. The four-man band of Gwil Sainsbury, Joe Newman, Gus Unger-Hamilton and Thom Green covered a tight set of songs from 2012's An Awesome Wave.
The band had little challenge in winning over the audience and made even their most somber song feel well-suited for a party. While the band members themselves remained reserved on stage, musically they did not hold back. After the encore the crowd refused to disperse, chanting and stopping their feet with such force the ground shook. This was enough to lure the band back on stage for one last song.
Check out photos from the band's soundcheck and performance in the gallery below.
Others Tagged With