Photos: Green Day Returns From Hiatus in Pomona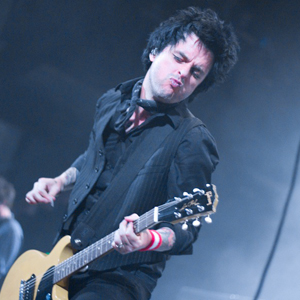 Green Day returned from a short hiatus on Sunday night in Pomona, Calif. for a sold-out, semi-intimate performance at the Fox Theater. In front of 2,000 fans covering every demographic, Billie Joe Armstrong was all smiles after having a high-profile outburst land him in rehab and the band waiting six months to promote their three (!) recent albums, Uno, Dos and Tre. As a comeback show, and a rare opportunity to see such a huge band in a smaller room, it was triumphant, with the five-piece band (apparently they've grown since the 90's) sticking with hits and favorites, only playing a handful of cuts from the new albums. Of course, this initial run to SXSW might be very different from when they play arenas with Best Coast next month.
Opening was The Stitches, a punk band from Orange County. A few more notes from the show and photos below:
- Billie Joe stepped away from the mic for a verse of "Boulevard of Broken Dreams," and, upon, returning, he told the crowd "welcome back." It was a nice and subtle reference to the elephant in the room.
- Last time I saw Green Day, Bill Clinton was President, 9/11 was more than a year away, and they played the Warped Tour with Weezer, J5, NoFX and many more. What I found most remarkable was how they still attract so many young people after so many years, and it is a surreal experience to see kids having the same living the same moment that you did thirteen years earlier.
- Green Day actually felt to large for the stage, like the size of the venue lacked challenge and their conquering of it was a foregone conclusion. The Fox is not small by any means, but Green Day left little doubt of the difference between an arena band and a theater band.
- Billie Joe's t-shirt cannon was a hit, but the need to turn every song into a climactic, eight-minute event wore thin. I might be an arena thing, where audiences are harder to keep focused, but at the Fox, they could have squeezed in 8 more songs with some less audience participation and "bridges to nowhere."
- Also, points must be deducted when you keep calling Pomona by the name Los Angeles. It was a rookie mistake made by a veteran.
- "Hitchin' a Ride" and "Holiday" rocked hardest.
Others Tagged With