Austin Psych Fest 2013: Day Three Recap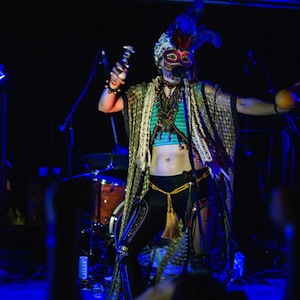 It's late Sunday afternoon, a ranch outside Austin, Texas. Last night's rain has left behind a clear blue sky dolloped with white clouds. The temperature's pushing 90 degrees, hot enough to half-bake the muddy parking lot into a goopy clay. Squint-inducing sun rays slant down over the awning of an erected stage. There is a man up there, and he is asking for more reverb in the monitors. (Always, more reverb in the monitors.) The man may or may not be wearing green underwear, no shirt, a cape emblazoned with a fleur-de-lis, and what looks like Roman Legion headgear. The man might be wearing a dress, or he might be wearing a black leather jacket. It does not really matter.
David Thomas of Pere Ubu has a beautiful phrase for psych rock, calling it "the cinematic music of the imagination," and for many listeners (myself included), it's the genre of music par excellence. But eight hours per day of bands trying to conjure the inner core of existence was beginning to get a little exhausting by Sunday. Psychedelic music aims at transcendence, either using the studio as an instrument or, in a live setting, attempting to obliterate the Ego by making sound a transcendental vessel. In practical terms, this means a lot of drone, feedback, reverb, tempo shifts, and volume. And this might be one small problem with a music festival that goes deep rather than broad: the majority of the bands at APF trade on the same sonic elements, and there are only so many similar recombinations of skull-crushing psych rock one man can hear before he starts wishing for someone to, like, play a nice cello sonata or something.
6:20 P.M.—The King Khan & BBQ Show, apparently reunited, at the Reverberation Stage. They play their songs: sophomoric, catchy, doo-woppy garage rock. They do not throw their instruments at each other.
7:00 P.M.—No Joy, a shoegaze band from Montreal, at the Levitation Tent, are a good example of the aforementioned sonic phenomenon: all of the bands, no matter how great or middle-of-the-road or terrible, were beginning to average out. I imagine a room filled with men and women thrusting their guitars at amps. And I like No Joy—their sound is swampy shoegaze, with great peregrine swoops of effects-laden guitars and fat, propulsive bass lines rumbling underneath. They play several new songs from their forthcoming record on Mexican Summer, Wait to Pleasure, and they sound really good. But so do a lot of other bands, all madly exploring different corners of that same room.
7:30 P.M.—Psychedelic rock legend Roky Erickson ambles nonchalantly onto the Reverberation Stage. When a then-63-year-old Erickson played this festival two years ago, I wrote that it was "something of a miracle, a surprise, to see this guy on a stage in 2011. [His] long struggle with mental illness has been well documented, and his burly, shaggy appearance these days is a far cry from the clean-shaven, good-looking miscreant from his time in the 13th Floor Elevators."
The only thing different on Sunday is that it's now 2013, and Erickson is 65-years-old. It's still kind of amazing to hear that indelible voice, however heavily corroded it's become, in person, like hearing the Big Bang in TV static. No matter that Erickson's band carries most of the set, while Erickson flubs lines and stops playing his guitar at apparently random intervals. It was as if the set were happening and he kept forgetting that he was a part of it. He seemed nonplussed about the whole thing, in contrast to the sycophantic crowd. The band plays through a wide range of stuff, from Blieb Alien songs like "Two-Headed Dog" to Elevators material like "Reverberation", "Fire Engine" and, of course, "You're Gonna Miss Me." Some of it comes off tamely as the band contorts to adjust to Erickson, but it doesn't really matter, because Roky Erickson is playing his guitar (sorta), and singing, and it is for us.
8:25 P.M.—Indian Jewelry, back at the Levitation Tent. Someone nearby describes the ear-piercing set as "the Peyote sound," which sounds good enough to me. Over at the Elevation Amphitheatre, Icelandic band Dead Skeleton have drawn the largest crowd of the weekend to the banks of the Colorado River with their malevolent drones.
9:15 P.M.—It's the Black Angels' turn. The Black Angels, in conjunction with their record label The Reverberation Appreciation Society, are responsible for Austin Psych Fest. Six years ago, it was a single-day festival, piggybacking on SXSW bands in a far-flung, now-defunct North Austin venue. Now an entire ranch has been transformed into one of the coolest festival sites I've ever been to, and over the course of three days everything runs inordinately smoothly. Bands start on time. There is ample food, shaded areas, water, and cool shit for sale. There is even camping. I am thinking about all of this as Alex Maas, the lead singer of The Black Angels, profusely thanks the enormous crowd for coming. "This is your festival," he says, with an earnestness that would be embarrassing if you didn't believe him entirely. But you do.
Then they launched into their bluesy, murky, kinda-milquetoast psych-rock grooves, leading with a couple of songs from their recently released fourth album, Indigo Meadow. The Black Angels straddle fidelity to Texas roots-psych and mainstream accessibility for fans who've never heard of the 13th Floor Elevators, but their music has always struck me as a little safe, when measured against the experimentation that is the raison d'être of psychedelic music. The Black Angels are like a stadium-rock psych band; a well-oiled machine, but perhaps a little too practiced, everything too much in its right place.
10:00 P.M.—Goat at the Elevation Amphitheater. I don't even know how to describe this. Goat is an experimental, world-music-mining entity which purportedly stems from a loose, decades-running collective in Korpilombolo, a small village in the northern hook of Sweden, which was purportedly cursed by a witch doctor who survived the Christian crusades. The resulting voodoo worship finds outlet in the band's ecstatic, trance-like grooves, in which you hear traces of Afrobeat, krautrock, cumbia, Hindustani ragas, funk and acid rock. Imagine Faust + Fela Kuti + Spacemen 3, maybe.
The seven members of Goat take the stage wearing masks. Some wear flowing, polychromatic, Far Eastern dresses; others are dressed like Medieval executioners. One guy looks like a bishop in the Eastern Orthodox church. They lock into a groove from last year's World Music and just lay. It. DOWN. Labyrinthine wah-wah guitars tangle with fuzz-tone bass and funky drum rhythms, aided by a Hindustani table drum. An 8th member occasionally emerges to skronx on a sax. It's immediately invigorating—music for the body instead of the head, a welcome diversion at APF. The two women who are singing dance like they're possessed—by the devil or St. Vitus, who knows. But it is captivating and colorful and frankly a little sexual, as is the duration of Goat's 75-minute performance. The singers command the packed crowd at the bottom of the amphitheater to headbang left, then right, then back left, and there is more dancing at this set than at the rest of Psych Fest combined, probably. Goat's set feels ritualistic and mystical, and was my personal favorite of Psych Fest.
11:30 P.M.—I am backstage coming down from Goat's set when Billy Gibbons emerges from his trailer. The ZZ Top frontman is unmistakable. He is here tonight with the band that gave him his start—The Moving Sidewalks, who recorded several singles and one full-length of psychedelic blues-rock before reforming as ZZ Top after their bassist and keyboard player were drafted into the Vietnam War. They were all in attendance for their Sunday night headlining set, the second Moving Sidewalks show in the last 44 years, after a reunion last month at B.B. King Blues Club and Grill in New York.
Gibbons has a rock-star quality; he is surely the only person at this year's Psych Fest who can tell personal stories about Jimi Hendrix before covering "Foxy Lady" or "Red House". The Sidewalks' songs were all written before Gibbons became a boogie-blues demigod, but he inserted long, slowhand solos on Sunday night, and the chops were evident. The blues were in the star-pocked sky as we walked one last time through the festival grounds. Soon, Austin Psych Fest would be over, and I would drive away from Carson Creek Ranch, my feet caked in mud, classical music on the radio.
Check out a few photos from photographer James Joiner in the gallery below.
Others Tagged With