Austin Psych Fest 2013: Day Two Recap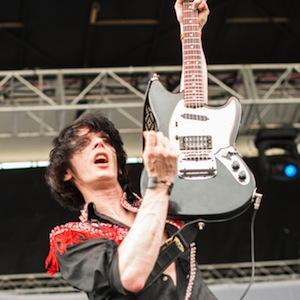 5:00 p.m.—During a multi-day outdoor music festival, there's always one day that people really get excited for. I don't have numbers, but it's apparent right away that A.P.F. 2013 day two is that day at this festival. There's just more of everything: more people, more woven fabrics, more weed in the air and more humidity, too. The sky threatens rain more grimly than yesterday. Large, winged insects are flying around, landing on people's tapas over by the food cart area. I make a mental note to remember bug repellant tomorrow.
5:45 p.m.—Night Beats on the Reverberation Stage, a scalding set of in-the-red, reverb-blanched garage rock, interpolating early R&B and 60's Texas psych circa the 13th Floor Elevators. I used to think guitarist Lee Blackwell was an evil wizard on the guitar, but once you've seen one Night Beats show, you've seen them all, and though he still scythes off blistering licks, the moves felt repeated. Another thing that never changes at a Night Beats show: bassist Tarek Wegner will say some "funny" shit. E.g. "Last night this guy was like, 'Do you wanna win the peyote sweepstakes?' So I won." Get it? He then dedicated a song to "all the girls with lopsided tits."
6:30 p.m.—The Holydrug Couple at the Elevation Amphitheatre. The Elevation Amphitheatre is the underdog stage that has been the best thing about A.P.F. 2013, what with the picturesque backdrop: the bucolic Colorado, the verdant tree bank on the far shore, the late-afternoon sun at your back. It was the perfect venue for The Holydrug Couple, a part of the burgeoning psychedelic scene in Chile. They jammed on blues- and ragas-inflected psych, dilating and contracting the songs with tempo shifts a la Amon Düül. They also ably covered Todd Rundgren, usually a win in my book.
7:00 p.m.—Back at the Reverberation Stage for Boris, the crusading Japanese trio to whom you can append pretty much any rock/metal/noise adjective. They piled up a huge, dense sound, summoning the clouds that would later pour rain over Carson Creek Ranch. Boris's set was a near-continuous dirge that ebbed and flowed between mellow post-rock and titanic sludge metal. Guitarist Wata manipulated the feedback into a continuous loop with an EBow, while Takeshi did double-duty on his double-necked bass/guitar. They conjured an ear-splitting racket on the last song, a 10+ minute brain-burster that concluded with the drummer, Atsuo, pounding the shit out of the Zildjian gong that had sat behind his kit like a Chekhov's gun. An impressive, portentous set, and a sign of things to come.
7:50 p.m.—Austin Psych Fest has, thus far, been so well-organized that bands are not only starting their sets on time, but early. The schedules for all three stages overlap in such a way that each individual stage has ample time for between-band set changes. But with some bands starting, and thus finishing, early, there's about a 10-15 period of zero bands at A.P.F. 2013. Everyone mills around the grounds, eating dinner and shopping at the "artisan vendors" area.The air feels surreal and threatening.
8:30 p.m.— I spy a man, shirtless, with his hair in two long braids, wearing a Native American headdress. He is throwing an arrow at a tree from a distance of approx. 2 feet. Many people at 2013 A.P.F. are inexplicably dressed like Native Americans.
9:20 p.m.—It begins gently sprinkling, so the Levitation Tent is packed, although at the moment no bands are playing. We wait in anticipation for Man or Astro-man?, who play an entirely different kind of "space rock" than, say, Hawkwind. Man or Astro-man? display an endearing fidelity to cheesy first-gen science fiction tropes. Their presence is announced when Mission Control command lines are projected on the stage backdrop, typed out in DOS format. The band members—Birdstuff, Coco the Electronic Monkey, Wizard, and Star Crunch—emerged, wearing orange and blue spacesuits. They blasted through an energetic surf-rock set, peppered with obscure audio samples from sci-fi films, and backdropped by spacey projections, most of which look like Asteroids levels. Man or Astro-man?'s energetic set is an extremely welcome tonic to the self-serious droney offerings that have so far dominated Psych Fest. People are straight up losing their minds dancing, including two people dressed in full-body penguin costumes, thrusting their beaks to the music.
10:05 p.m.—Os Mutantes have just finished their sound check at the Reverberation Stage when they sky finally opens up and rain pours down. I hightail it back to the Levitation Tent, while a swarm of stagehands emerge onstage to clear Os Mutantes' equipment. It's a Texas prairie storm, the rain coming down in thick sheets, drops that hit like paintballs, and sky-spanning lightning.
10:45 p.m.—The rain lets up just enough for Os Mutantes to play, although they are sequestered about twenty feet back from the front of the stage. But one of the coolest things about Psych Fest, this year and in years past, has been the Reverberation Appreciation Society's erstwhile and largely successful attempts to bring legendary psych bands to the festival, exposing people to lost Texas psych (like the Golden Dawn, who played last year), or giving them a once-in-a-lifetime opportunity to see Sky Saxon (who played a few years ago), or Silver Apples, or Os Mutantes. The Brazilian band reunited a few years back after thirty years out of the game, and their enthusiasm shone through in their performance, despite the less-than-ideal conditions.
12:25 p.m.—After an extremely-lengthy soundcheck and astral, atmospheric intro, Bradford Cox, of day two headliner Deerhunter, walked off the stage. He returned wearing a dress and black wig, the guise of his recently-adopted alter-ego, Connie Lungpin. Yeah, yeah—Bradford Cox might be the biggest rock star at A.P.F. 2013 who isn't in ZZ Top, and that's something that would've sounded crazy as recently as two years ago. He was effusive and casual, and the band played an assured, aggressive set, comprised mostly of material from new album Monomania balanced with a couple of selections from 2010's Halcyon Digest. Shrouded in dense fog with an epileptic light show, the new material sounded more aggressive than old Deerhunter. They have a swagger, now, and Cox is ever more a Front Man in the 70s CBGB sense of the word. They closed on "Monomania", the furious, pugnacious lead single from the album. It sounded awesomely brutal early Sunday morning, leaving our ears ringing for the mud-caked walk back through the parking lot.
View photographer James Joiner's photos from the day in the gallery below, and stay tuned for more coverage from Austin Psych Fest.
Others Tagged With