Coachella 2013: Day Three - Recap and Photos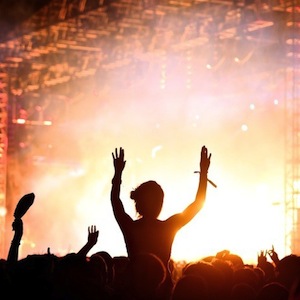 The final night of Coachella 2013 was something most people did not see coming: cold. Yes, weather played a key role in the conclusion of this year's desert heat fest, with high winds rolling in and turning the festival crowds into a virtual sand storm. Headliners Red Hot Chili Peppers joked about feeling like the stars of Lawrence of Arabia or Woody Guthrie songs, but the fact was that the best shelter from the intense weather was in the giant crowd.
Still, Red Hot Chili Peppers' parade of songs about California didn't ring any less true, as no one in the audience held some sort of convoluted view that California wasn't without its rain clouds and sunburns and bad burrito every once in a while. And that's sort of Coachella in a nutshell; where essay after essay about the worst people at Coachella can be written, looking at these negatives is missing the point. Coachella is an event put together with more care by the promotors, the artists, and the staff than any you will find.
On Sunday we got a Wu-Tang Clan orchestra. The stage area was utter chaos, the evening felt like it was going to break into anarchy at any moments, but the fact remained that the Wu-Tang Clan brought an orchestra to their big Coachella show. Nick Cave? He brought a string section and a children's choir. Thirty or so tiny people wearing bad seeds shirts.
Others offered reverence to Coachella by simply performing with their hearts bleeding on the stage. Grimes was a revelation, never ceasing to dance, shake, smile, stretch, pose, and play energetic and enthralling music. She had dancers, too. James Blake was able to deliver his late-night piano balled bangers in the light of day, with the bass turned up enough to bruise the bodies of those standing too close to the subs.
Jessie Ware, DIIV, Kurt Vile, and Father John Misty were just a few of the others who used the opportunity to play in front of a huge crowd as sort of an introduction. Ware was all charm. Misty was all Lord of the Rings jokes and psychedelic sexual charisma. DIIV was all adolescent fun and games. Vile was all earnestness. Each was at their best as themselves and reveled in the moment to play of the world's biggest stage, where those that weren't watching in person were watching on the internet.
I know we'll forget this by next year, when Coachella reveals its lineup and we are groaning about U2 bringing in too many old people or Pearl Jam being boring or Daft Punk having already played other festivals or whatever it is that we will find the need to question. As long as the artists chosen to play Coachella continue to treat the event with reverence and respect, it will continue to be one of the best music festivals in the world.
Others Tagged With