New Orleans Jazz Festival 2013: Day One Recap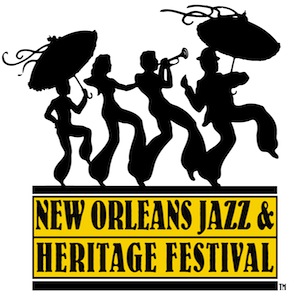 On the HBO series Treme, the character of Delmond Lambreaux is clearly based on Donald Harrison, Jr., who is also a jazz horn player who found success in New York but came home to New Orleans to embrace the Mardi Gras Indian culture practiced by his father. Delmond plays a trumpet and Harrison an alto sax; the latter is a paid consultant for the series.
Harrison, a virtuoso instrumentalist and an accomplished sewer of the beaded-and-feathered Indian suits, would seem to be a natural candidate for weaving his hometown's jazz and funk traditions together. His afternoon set on Friday's opening of the New Orleans Jazz & Heritage Festival tried to do just that, but because the attempt raised hopes so high, the disappointment was all the more acute.
Wearing a bright orange shirt under a black pinstripe suit, Harrison began the show by leading the band and the outdoor audience in the kind of chants that link the Mardi Gras Indians back to West Africa and forward to hip-hop and go-go music. It was a good set-up for the leap into the exciting jazz improvisation that everyone was expecting.
It never materialized. Instead Harrison played the kind of safe toodling over a funk-lite groove that characterizes so many jazz-fusion and smooth-jazz records. The four musicians behind him stuck to a repeating, predictable pattern, while Harrison played minimal variations on the melody that lacked the daring and invention of his work with Art Blakey, Don Pullen and Terence Blanchard. It was background music rather than foreground music.
Does this mean that an integration of real New Orleans jazz and real New Orleans funk is impossible? Not at all. Earlier on the same afternoon, the Soul Rebels demonstrated just how it could be done. Like Harrison, they began many of their numbers with chants such as "504," their shout-out to their hometown by way of its telephone area code, or "Pass the Peas," the title of their collaboration with Maceo Parker. Once they had whipped the crowd into a call-and-response frenzy over a stomping funk beat, it was time for that leap into true jazz.
The Soul Rebels leapt long and landed on their feet. When they soloed, they didn't merely restate the theme in slightly altered form, they recomposed the song with new lines, even new chords. Especially impressive were tenor saxophonist Erion Williams and trumpeter Julian Gosin.
One reason they were so inventive was the rhythm section never allowed the horn players to sleep on the job. Sousaphonist Edward Lee and drummers Lumar LeBlanc and Derrick Moss kept finding new ways to deliver the same groove, and that forced the horn players to come up with something new too. Taking the place of the electric bass, Lee's tuba-like horn blurted out exceptionally well defined notes, which allowed him to create moving bass lines which prompted the horns to keep moving themselves.
It was a thrilling example of how gifted jazz musicians can improvise on any material in any context. One 40-minute medley of songs included the band's version of Kanye West's "Touch the Sky"; Gosin did the rap and then picked up his horn and delivered a solo that opened up the song's harmonic possibilities, just as he might have done soloing on a George Gershwin tune.
Others Tagged With