New Orleans Jazz Festival 2013: Day Two - Andrew Bird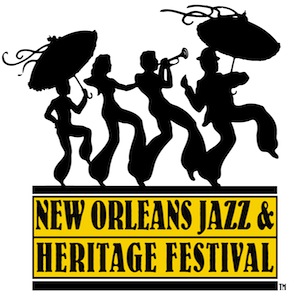 The Fais Do Do Stage at the New Orleans Jazz & Heritage Festival is mostly devoted to Cajun and zydeco bands, but for the final set on Saturday Andrew Bird was standing there beneath a proscenium weathered to look like a South Louisiana dancehall. It was a subtle reminder that hiding in the tall grass of Bird's many experiments with self-generated loops, odd meters and spiky rock are the small animals of American roots music, some of them from Louisiana.
And it was the tension between those roots and Bird's experimentalism that made the set so satisfying. The short, slender Chicago musician wearing a dark blue blazer and slightly tousled hair began the show with a long, unaccompanied violin solo that hinted at the Cajun fiddlers who'd been on the stage earlier in the day but also to classical and jazz violinists. Eventually the rest of his band—drummer/keyboardist Martin Dosh, bassist Alan Hampton and guitarist Jeremy Ylvisaker—strolled on stage, and Bird switched from violin to guitar himself.
But before laying his fiddle town, Bird had sampled a phrase and looped it, so the bowed sound lingered like a ghost beneath the indie-rock sound of "A Nervous Tic Motion of the Head to the Left." The song's lyrics also combine images of a pastoral Nebraska landscape with "16 tons of hazmat," which perhaps cause the blisters under the flannel shirts worn by hipsters and hunters alike. That's how it was for the whole set: the traditional and the modern rubbed up against each other in ways unusual but stimulating.
On "Desperation Breeds," another, slower song about trouble in America's farmland, Bird began by playing his violin pizzicato, sampling and looping that, moving to glockenspiel to reinforce the appealing melody, singing a few verses over Dosh's brushes and Ylvisaker's brittle, trebly guitar, and then unleashing his best trick: whistling the tune. Most whistling in pop music is annoying, because the pitch is never quite right. But Bird has a rare control over his lips and tongue and can be as precise with his whistling as he can with his fretted guitar.
That song and "Orpheo Looks Back" came from Bird's latest album, Break It Yourself. But the older songs too prospered through the obvious rapport Bird shared with his quartet. "Darkmatter," for example, began as a reverie of memory, full of atmospheric keyboards and tremolo guitar that gradually built into a rock'n'roll crescendo, much as way Bird's own collection of traditional sounds gradually cohered into a distinctively original pop music.
Others Tagged With