Photos: Paste Untapped - Fort Worth, Texas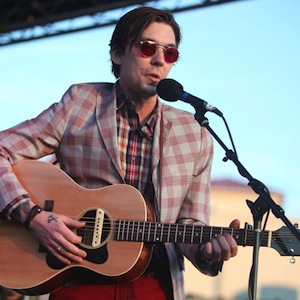 Music and beer. Those two great tastes tasted great together this past weekend at the first Paste Untapped festival in Fort Worth, Texas. The party actually began on Friday night at The Live Oak Music Hall & Lounge where four bands—The Unlikely Candidates, Memphis Dawls, Daniel Hart and Air Review—kicked off the festivities with a series of evening showcases. With a great tap list, it was hard not to get started on the beer side of things that first night, as well (including our IPA Challenge winner Firestone Walker Union Jack, and a local discovery—Revolver Brewing's Blood and Honey).
By 2pm on Saturday, during the VIP beer tasting, the focus was definitely more on the libations. With 200 beers available from 65 different breweries, there were still about 100 people lined up to taste Founder's Kentucky Breakfast Stout—the first keg of it tapped in the state of Texas. It lives up to the hype—a bourbon-barrel-aged Imperial Stout combining strong chocolate flavor with a boozy, smoky finish. It's one of a handful of beers I would give a perfect rating.
But it was by no means the only extraordinary stout at the fest. Other memorable ones included Firestone Walker's Parabola (a dry Russian Imperial Oatmeal Stout aged in Heaven Hill bourbon barrels), Dogfish Head's Bitches Brew (an American Imperial Stout brewed in honor of Miles Davis), Left Hand's Wake Up Dead (a Russian Imperial Stout), Clown Shoes' Chocolate Sombrero (an American Imperial Stout) and an Oak-Aged Ten Fidy from Oskar Blues (a Russian Imperial Stout). Two of the most interesting, though were from Texas breweries: Denton's Armadillo Ale Works served its Quakertown Imperial Oatmeal Stout through a Randall filter full of bananas and cinnamon. And Garland's Lakewood Brewing Company served its limited-edition Bourbon Barrel Temptress, an Imperial Milk Stout aged on bourbon and espresso. The latter was one of my favorite beers of the day.
Lakewood also stood out for its wonderfully over-hopped saison called Till & Toil. Only nine months old, the brewery is off to a spectacular start. The Texas beer scene is getting better by the minute thanks to breweries like Deep Ellum (which served its delicious, new barleywine Numb Comfort) and Real Ale (representing with a tasty Belgian Tripel called Devil's Backbone) joining local favorites Rahr & Sons, who had a steady line all day long.
On the IPA side, Firestone Walker brought their black IPA Wookie Jack, Avery poured the Maharaja Imperial IPA and Stone had three different varieties. There were plenty of great barleywines, bocks, sours, quads, porters, Belgians, wheat beers and even ciders.
The music started at 3:30 with Denton's Dove Hunters providing some Southern psych-folk jams that fit the gorgeous weather perfectly. Somebody's Darling lent a rootsier alt-country vibe the day, reminding us all that we were in Texas. They were followed by fellow Metroplex residents Skeleton Coast, playing their last show for a while. And then The Orbans returned to a bit of the twang with a folk-pop twist. They're definitely a band to keep an eye on.
Tennis was the first national band to take the stage as evening approached. Married couple Alaina Moore and Patrick Riley brought a full band, giving punch to songs from both their first two albums. Justin Townes Earle's new band impressed as well, but songs like "Harlem River Blues" and "Memphis in the Rain" would work under just about any circumstance.
Denton's own Sarah Jaffe (now living in Dallas) played for an appreciative hometown crowd. Hearing her play "Clementine" was one of the musical highlights of my day. But the evening's best moment may have been just before Deer Tick went on.
Some of the band had been delayed in Boston during Friday's manhunt for the Boston bombing suspect. Just as I was about to hop up on stage to introduce them, the crowd broke out into a spontaneous rendition of the national anthem. The Rhode Islanders served as the perfect closing to a near-perfect day.
Others Tagged With