Coachella 2013: Day One - Recap and Photos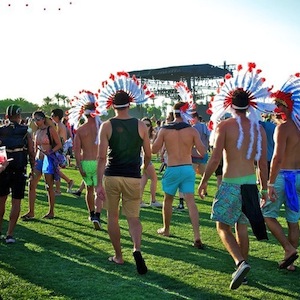 Coachella's first night of 2013 was notable for an act that didn't even play: Daft Punk. Before the Yeah Yeah Yeahs' main stage performance, a trailer featuring new music from the electronic duo and a list of collaborators for their upcoming album, including Pharrell and Julian Casablancas, debuted to the delight of the crowd. Is there a still a chance they make another appearance tonight? Who knows.
That's not to say the acts in attendance didn't deliver, but any pre-fest questions about whether the big acts felt like events were answered by vast amounts of empty space for Blur and, even worse, for The Stone Roses. Still, both delivered what would be expected, familiar songs to an adoring crowd that packed in tight around the giant stage.
Bigger audiences turned up for Yeah Yeah Yeahs and Modest Mouse and were also treated to two bands that could have made arguments for deserving the headlining slot themselves. Karen O asked the audience "if their drugs had kicked in yet" while costumed is some colorful getup that this boyish writer wouldn't even try to describe. In brief, she looked amazing, and she was all attitude as she led her band through opener "Sacrilege," with the help of the Hollywood Gospel Choir, followed by many old favorites.
Modest Mouse, who for years have tried to buck the stigma that they were a hit-or-miss live experience, opened with a song nearly as old as their band with "Dramamine." They never looked back, delivering strong renditions of "3rd Planet" and "Cowboy Dan." Isaac Brock was his mumbling, strange self stirring anticipation for when their next album might actually arrive.
Local Natives also delighted a huge hometown audience for a sunset performance that clearly struck the young men with its magnitude. The outdoor theater also offered up a dark set from Beach House, where the band could hardly be seen as they delivered dream-pop from the opaque abyss, as well as the passionate and fun appearance from Divine Fits, with Britt Daniel and Dan Boekner trying to out swagger each other in a competition where the audience is truly the winner. Tegan & Sara closed out the stage by showcasing their songwriting, something that still feels underrated thanks to their seemingly harmless stage presence.
As with any festival, some of the most memorable experiences lasted just a few moments. Youth Lagoon closed their set with a powerful and huge rendition of "July" that called this writer from across the fields like a magnet. Grinderman had a similar effect, whose noisy beacon revealed Nick Cave and company in total chaos of noise, having the kind of fun that just was not possible with the Bad Seeds.
And, a few smaller bands played excellent sets to smaller audiences. Notably, Palma Violets, who played their South London, Clash-meets-Stones rock with the bravado of headliners. Polica, with some help from Justin Vernon, also proved any buzz totally justified.
You can check out a few of photographer Chris Garmon's photos from day one of Coachella 2013 in the gallery below, and stay tuned for more updates as the festival continues.
Others Tagged With