Photos: Spirit Family Reunion - Cambridge, Mass.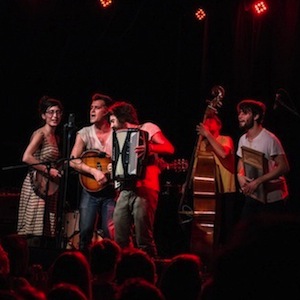 Playing to a sold-out room at the newly minted Sinclair in Cambridge, Mass. on Friday, April 5, Brooklyn sextet Spirit Family Reunion hit their stride early and maintained it, arcing through their catalog as a sea of dancing bodies celebrated the warm spring evening.
Joined onstage for the encore by Amelia Emmet of opening act Thick Heavy, they launched into their signature sing along, "don't worry about me, I'll find a way" and were joined with gusto, the audience yelling back at the top of their lungs.
Ending with a nod and invitation to their upcoming return for Newport Folk Fest, the band vanished and the lights came on. For one night at least, they've all found their way.
Others Tagged With