New Orleans Jazz Festival 2013 - John Boutte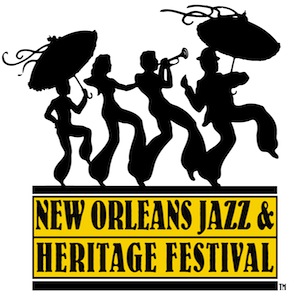 The overflow crowd inside the Jazz Tent at the New Orleans Jazz & Heritage Festival rose to its feet as soon as it heard the rubbery acoustic bass figure that opens the credits for every episode to HBO's Treme. It's the introduction to "Treme Song," written and sung by John Boutte, who was standing by on stage. A short, bearded man in an oversize white shirt and baggy pants, Boutte slapped his tambourine and began to sing about his neighborhood, "Hangin' in the Treme, watching people sashay, past my steps, by my porch, in front of my door."
Soon audience members were sashaying themselves, rolling their hips in a New Orleans style that is part boast and part invitations—and Boutte's three-piece horn section and three-piece rhythm section seemed to grab those hips and swing them a little wider. By the time Boutte got to the key line, "We're all going crazy—buck jumping and having fun," the evidence for the claim was all around.
But there's a lot more than one song to John Boutte, who may be the finest male singer in jazz today. His command of pitch, rhythm and phrasing were obvious when he tackled such standards as Louis Armstrong's "Basin Street Blues," Nat King Cole's "Straighten Up and Fly Right" and Edith Piaf's "La Vie en Rose." Boutte displayed an unusual knack for shifting the accents in each song so the pulse sounded different but even catchier than before.
When he departed the jazz canon to tackle Leonard Cohen's "Hallelujah," he brought out his four fellow members in the Boutte Family Gospel group to sing harmonies. Even though there were 11 performers on stage, the arrangement was very spare, allowing Boutte to twist, turn and personalize Cohen's ruminations of doubt and skepticism on the many verses. As a result, when the horns and harmony vocals finally came in on the title refrain, its swelling affirmation offered the most dramatic of contrasts.
Others Tagged With