New Orleans Jazz Festival 2013: Friday - Holly Williams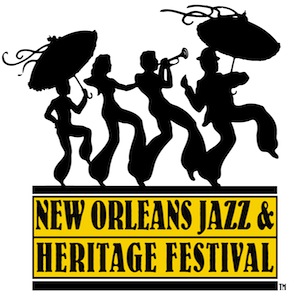 "I want to sing a family song but it's hard because there are so many to choose from," Holly Williams told the mud-splattered crowd at the New Orleans Jazz & Heritage Festival Friday. When you're the granddaughter of Hank Williams Sr., the daughter to Hank Williams Jr. and the half-sister of Hank Williams III, the family songbook is unusually large. "There's gonna be a lot of sinning at Jazzfest today," she said, "so let's go to church for a while."
She sang her grandfather's "I Saw the Light" with her husband/guitarist (and former Kings of Leon sideman) Chris Coleman singing harmony. But unlike a lot of musicians bearing famous names, Holly doesn't have to push those connections too much, for she would be a gifted country singer and writer even if her name was Schwartz. Her new album, The Highway, released in February, is a terrific collection of smart, understated songs, and she sang a bunch of them at Jazzfest.
"Waiting for June" is another family song, but it describes Holly's maternal grandparents rather than her more celebrated paternal antecedents. It's the story of an older married couple who balance a lifetime of affection against the trials of disease and death, and it's handled without the usual mawkishness to create three-dimensional characters.
Holly then excused the rest of her quartet and sat down alone at the piano to sing "Without You," a song about the road and separated lovers. With her blonde hair falling out of a panama hat, over her shoulders and down the front of her black top, she sang, "I carry 'round this old backpack, full of CDs and Kerouac, living on the road. I left my heart on the coast of Wales, with the boy I met at The Last Hotel, but I had to let him go." The midtempo melody seemed to be as restless and as searching as the narrator in the song.
She then recalled her bandmates to the stage to sing "'Til It Runs Dry," a chipper string-band tune with three-part harmonies. The song's key couplet reflects on the dilemma of any performer carrying a legendary family name: "A past I could erase, but I'll serve it up on a silver plate." She doesn't have to exploit her connections but neither does she have to duck them, because she's that good.
Others Tagged With