New Orleans Jazz Festival 2013: Thursday - Widespread Panic, Theresa Andersson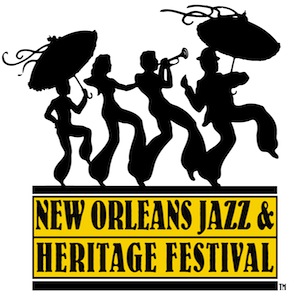 The trouble with a band like Widespread Panic is that if you're at all familiar with jazz, the band's improvisations are not that impressive. And if the band's not getting over on the strength of its solos, it has to rely on the more conventional qualities of pop music—singing, songwriting and rhythm—and those aren't so impressive either. It's not that Widespread's musicians are incompetent in any of these areas; it's that they're not exceptional at any of them.
The sextet played a two-and-a-half-hour set, nearly twice as long as any other set at the New Orleans Jazz & Heritage Festival on Thursday. This is a tribute to the band's impressive popularity—and also to the length of their songs, simple boogie blues and Southern-rock numbers that often stretch out past the 10-minute mark. But do they really need to be that long if the musicians are just going to play bar-band variations on blues changes?
As Widespread Panic was getting started at one end of the oval race track where Jazzfest takes place, Theresa Andersson was finishing up at the opposite end. A Swedish native who was so drawn to the sounds of New Orleans that she moved there, Andersson often references the sounds of her adopted city. Her new quartet includes tuba player Kirk Joseph of the Dirty Dozen Brass Band and terrific funk drummer Joe Dyson.
But Andersson's songwriting isn't really grounded in New Orleans' R&B and funk traditions; it's based more on artsy, modern pop-rock. Like Widespread Panic, she can't rely on improvisation or tradition to succeed; she has to do it with singing and songwriting. Fortunately, she has a terrific soprano voice and a gift for catchy tunes. If her lyrics are often too diffuse and esoteric for her own good, her clever use of live-on-stage sampling and looping showcase her hooks quite attractively.
On Thursday, her long, red hair fell over a loose, black dress and Mylar ribbons hung from her right wrist. She began the set with "Bird Fly Away" by sampling her own "oohs" to build a girl-group harmony. She didn't even play her trademark fiddle, relying on a church-like tambourine to emphasize the key, post-Katrina line, "They seek shelter." On "Hi-Low," she used her fiddle like a slide guitar to bring out the bouncy song's appealing chorus. On "Injuns," she built the modern-rock arrangement toward a climax of wailing violin.
Others Tagged With