Bonnaroo 2013: Photos + Recap - Day One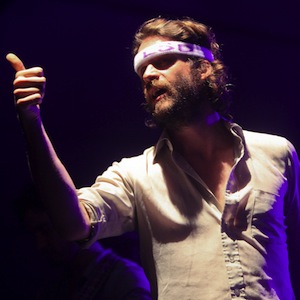 Day one of Bonnaroo in Manchester, Tenn., might have been defined by uncertainty—both for festival acts like Mumford & Sons and Earl Sweatshirt, who ended up announcing cancellations—and the looming clouds that never quite turned into an extended downpour. But here we are on morning two. The sun is out, our feeble attempt at a tent is still standing and we can say day one of Bonnaroo was a bona fide success.
After braving our way through Manchester's one-week-a-year surge of traffic, our day kicked off waiting for DIIV. Before festivalgoers got all up in arms, referencing that whole SXSW fiasco, it was soon announced the Brooklynites had canceled their set in order to play during Earl Sweatshirt's cancelled showcase later on. Thankfully we stuck around the This Tent for Athens, Ga.'s own Futurebirds, who played a delightfully loose, south-soaked set showcasing material from their most recent release, Baba Yaga, a perfect musical introduction to a week filled with all the outdoors has to offer.
JD McPherson
JD McPherson's early evening set made me want to put my hair in rollers and borrow all my grandma's clothes—and I mean that in the best possible way. Terms like "retro" and "throwback" are often euphemisms for "derivative," but McPherson's truly great at what he does and finds a way to make numbers like Bo Diddley's "You Don't Love Me (You Don't Care)" sound fresh and unique. —Bonnie Stiernberg
Haim
I said it once (or twice, or six times) to my co-festivalgoers, but I'll say it again here (because everyone else is sick and tired of hearing it). I think I fell for every Haim sister more than once through the course of their excellent hour-long set at the That Tent. And although their set leaned heavily on the power of their limited recorded outlet, the three sisters showed that they're more than just the electro-pop singles like "Falling" that have trickled out thus far (not that these are in any way bad things), sprinkling in a few Stones-esque, guitar-driven numbers and showcasing what's to come from this super-promising young act. Este, Haim's rock-solid bassist, gets super bonus points for stopping the show to invite a young fan up onstage.—Tyler Kane
Django Django
"Excuse me, girls, have ever you heard this song before?" When my friend and I responded that, yes, we have in fact heard Django Django's "Hail Bop," the guy who approached us grinned and said "It makes me feel like I'm in some mystic land." He probably was (from the look in his eyes, he was definitely on some sort of trip), but he was also right. The band played to a packed crowd after dark, and neon hula loops and glowsticks that filled the area gave it an unearthly feel. —Bonnie Stiernberg
Japandroids
We like Japandroids at Paste. So much so, in fact, that their song "The House that Heaven Built" took an overwhelming lead as our No. 1 best song last year. At their best, Japandroids shows are triumphant, sweat-soaked affairs, but that wasn't really the case last night—at no fault of the band. The band played a high-energy, Celebration Rock-coated set, drawing as many echoing "Oh"s as you'd hope for from a Bonnaroo-sized crowd. We were cheering for these guys, after all. But it was apparent to all around me that, once the duo took the stage, the mix was less than desirable.
Brian King's three-stack-deep guitar rig sounded muffled and feeble—and completely washed out under David Proswe's drums, so what we heard was almost a percussion-only take on guitar songs that sound best cranked to 11. It improved shortly after the set's halfway point, and this is when things started to click for newcomers to the band, who now made sense sonically. But once bad sound was out of the picture, the guys showed that their energy didn't have to be confined to club-sized stage, and that maybe there wasn't a better way to celebrate on this first evening of Bonnaroo.—Tyler Kane
Father John Misty
Josh Tillman brought his unmatched stage presence to his set at the That Tent, opening with "Funtimes in Babylon" and teasing the crowd with lines like "Bonnaroo! Are you enjoying being asked how you're doing every hour for the next five days?" before moving on to "Only Son of the Ladiesman" and plenty of other favorites from his excellent Fear Fun. —Bonnie Stiernberg
Alt-J
By the time Alt-J hit the stage at 11:30 at the This Tent, I was baffled by the crowd that swarmed the stage. In fact, much of the chatter before Japandroids' earlier set came from people all around me, trying to brainstorm ways to end up within a hundred feet or so of this Mercury Prize-winning English quartet. I'd never caught them before, so I had no real idea of what to expect, but their set was nothing short of fantastic, showing off the crisp, tight presentation of An Awesome Wave's synth-washed, slow-burning tracks that only come from months on the road. But on a larger scale, people past This Tent's broad enclosure were still connecting with the English foursome, a testament that making original, off-kilter tunes can still touch many. With as big as 2012 was for Alt-J, I'm excited to see what comes after this time on the road.—Tyler Kane
The Polyphonic Spree performing the songs of Rocky Horror Picture Show
The line to see The Polyphonic Spree's special Rocky Horror show at the Cinema Tent stretched nearly the length of the field by the time 11 p.m. rolled around, and those who stuck it out (many of whom were decked out in the typical wild Rocky Horror outfits you'd see at a midnight screening) weren't disappointed. The band played the entire soundtrack of the movie, and Tim DeLaughter made an especially excellent Dr. Frank-N-Furter, adapting his normal tenor into a deep, throaty tone worthy of a sweet transvestite from Transexual, Transylvania. After it was all over, DeLaughter (who emphasized that this was only the second time the band had performed Rocky Horror) seemed genuinely humbled by the response, hopping back up to the mic to thank the crowd and say "For those of you who may not know us, this isn't our regular gig." —Bonnie Stiernberg
Others Tagged With