Bonnaroo 2013: Photos + Recap - Day Two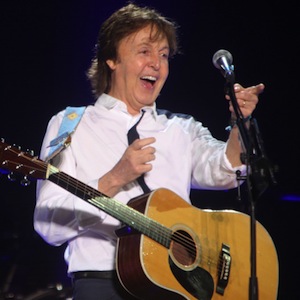 It'd be easy to give in to the temptation to park ourselves in front of the What Stage and wait all day for Paul McCartney (and truth be told, plenty of people did just that), but there was far more fantastic music to be seen before the former Beatle hit the stage. Check out some of our favorites, along with photos by Mark C. Austin, below.
Reptar
While many of us were still groggily trudging back from the shower trailer, Reptar woke up those who made their way to The Other Tent during their 12:30 set. The Athens, Ga. group brought the same high level of energy we've come to expect from them, leading the crowd in a riotous dance party with favorites like "Stuck in My Id" and busting out some snazzy choreographed moves.—Bonnie Stiernberg
Jason Isbell and the 400 Unit
Off the heels of a damn good solo album, Jason Isbell and the 400 Unit kicked off another day of great tunes at Bonnaroo's Which Stage, where he brought the attention and intimacy of an Alabama club with his excellently composed country rock. Isbell's set glided between subdued and relaxed to twangy and abrasive, but the crowd was in the palm of his hand by the time he ripped through closer "Super 8," warning the beer-sipping attendees to be "careful, but not too careful" before tearing into the self-reflective tune.—Tyler Kane
Local Natives
Local Natives had a remarkably laid-back crowd, even for the always-sunny Bonnaroo attendees. People lazed on blankets and sat in the sun as the California quartet played through old favorites like "Sun Hands" and "Airplanes" along with tracks from their new album Hummingbird. It was refreshing to see a band on the main stage where the crowd was sizable without being cramped, and as fest-goers twirled to the harmony-rich performance it felt like the perfect example of a peaceful festival atmosphere. —Dacey Orr
DIIV
They had to cancel their set yesterday, but thanks to Earl Sweatshirt's last-minute change of plans, DIIV still had a chance to play at this year's Bonnaroo. "I'd like to thank Earl Sweatshirt for canceling," said frontman Zachary Cole Smith, before quoting the only Odd Future lyric he knew. The band made their second chance count, debuting a strong new track called "Dust."—Bonnie Stiernberg
Of Monsters and Men
The crowd for Of Monsters and Men started to thicken almost 30 minutes before their set was supposed to begin, and it was hard to weave through the crowd. If you were at the back, you might not have even noticed that the set started on time—it was hard to hear that the band was playing at all, let alone make out which song was playing. About halfway in, though, the masses began to clear and you could hear the band tearing through "Lion Heart" in full force. If nothing else, the big turnout proved that this Icelandic quintet has a lot of people eager to experience this much-buzzed-about live show for themselves.
John McLaughlin and the 4th Dimension
While Nels Cline was showing people how it's done on a six-string on the What Stage, jazz guitar god and former Mahavishnu Orchestra guitarist was giving a master class at a sparsely attended That Tent. McLaughlin's stuttering, off-kilter guitar acrobatics still sound as lively and impressive as they did on Birds of Fire, and those who braved the set had no regrets.—Tyler Kane
Jim James
It was surprisingly easy to weasel up to the front for this set from the My Morning Jacket frontman, which started out with such a sparse crowd that we almost thought we'd shown up at the wrong tent. Many of James' adoring fans must have been catching a bit of Wilco's set before heading over, though, because the audience grew quickly a few songs in. James opened with "State of the Art," slinking around the stage in his usual fashion and adorned in a full suit, of course, despite the sweltering heat. The crowd sang along with the choruses and couples swayed for sweeter tracks like "A New Life." Like any time James is on stage, the audience seemed completely enamored with his performance, and it served as the perfect build up for the evening's headliner. —Dacey Orr
Wilco
Wilco eased into their pre-McCartney set on the What Stage with "Poor Places" before delivering plenty of gorgeous numbers from their latest, The Whole Love, as well as a mix of favorites that included "Impossible Germany" and "Jesus, Etc." At one point they brought out members of Calexico to perform "California Stars" with them—"We're Wilexco," Jeff Tweedy told the crowd. Although much of the crowd was there staking out spots for the former Beatle ("There's this guy up next, Paul McCartney," Tweedy cracked. "I'm not really familiar with his work.") they were all won over by the band's excellent-as-usual set.—Bonnie Stiernberg
Paul McCartney
What is there more to say about Paul McCartney's set, other than it was basically perfect on this chilly Friday night? The show opened with the massive side-stage displays playing a psychedelic, half-hour long montage reel of McCartney's storied past, with an abundance of nods to his time in The Beatles and Wings. It was an emotional beginning for the concert, which was fronted by a man who the audience already felt an otherworldly connection to over the course of decades. The family in front of me, which sported three generations, was singing every word with Sir Paul from opening note to the blinding fireworks for "Live and Let Die" to the closing cymbal crashes of the Abbey Road medley, and I'm left to wonder if I'll ever see another artist that can do this in my lifetime. Needless to say, it was truly one of the more special concert experiences I've had.
And although McCartney could have just showed up, played the three hours of hits (it's hard to think of many artists that can truly fill that period of time without lulling the crowd), he gave back as much to the audience as they did to him. The set was filled with hit after hit, with McCartney making smart and considerate choices with the deeper catalog and leaning heavily on Wings and Beatles material. We even got one song McCartney hadn't performed live until this tour, Sgt. Pepper's "Lonely Rita."
He was a joker, teasing "Woah, someone has some pretty good weed up front. What are you trying to do to me?" a curious attendee of the phenomenon that is Bonnaroo and an emotional storyteller, dedicating several songs to Lennon, Linda McCartney and his current wife Nancy, not to mention the absolutely beautiful ukelele version of "Something" he dedicated to Harrison. He bellowed "Free Pussy Riot" more than once, and shared lively stories of his time in Russia, explaining several high-up Russian officials learned English from Beatles records. He put a stuffed walrus on his piano and sang to it for the closing Abbey Road medley. Long story short, we were all McCartney fans, but the crowd—which I could not see an end to in any direction, even on my tippy-toes—walked away almost feeling like his friend. It's exceptional to make hundreds of thousands of buds with just a Hofner bass, a piano and that beautiful voice of Paul's.—Tyler Kane