Governors Ball NYC 2013: Photos + Recap - Day Three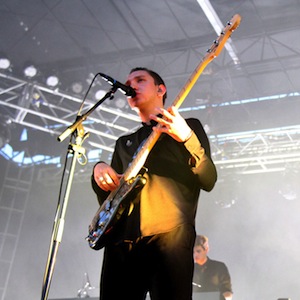 The closing day of The Governors Ball could have been all about Kanye West, a.k.a. Yeezus, whose set was probably the most anticipated of the entire festival.  But it was so much more.  The mud was no longer the main topic, though it was smelling more like a stable every minute.  The festival itself was in top form with sunny skies, more walkable grounds, good moods and summer outfits.  Alt-dance bands, melodic indie-rock, weird synths and tons of experimental pop was all there for the swooning.


Brooklyn-based, British and omnipresent artists filled out an impressive lineup of avant-garde artists for day three.  Harnessed noise and distortion with beautiful vocals was a running thread.  From the soulful sliding choruses of Cold War Kids to the airy heartbreakers of Foals and The xx, it was like a showcase of distinctive vocals with some combination of unusual soundscapes.  

Deerhunter's just-released Monomania generated excitement for their live set as fans wanted to see how they could re-create their deep layers of space sound and grunge under pensive, high vocals.  Bradford Cox was a lot more earthling than their songs would imply talking about the bacteria in mud, how oil was made from dead people and now powering his amps and whether each song was new or old.  Their musicianship was deep with moments of garage rock, ambient, droning grunge, syncopation and a collection of bleeps.  "Helicopter" and "Desire Lines" from Halcyon Digest brought deep yeah's from the audience.  Cox's spine-chilling falsetto and thoughtful lyrics were some of the most affecting of the day.  When he sang, "Ever since I was born I have felt so old," it seemed exactly right.  


British rock stars Foals, who haven't found as deep a U.S. audience yet, brought the live dance-band element to the main stage. Drummer Jack Bevan seemed to have five beat-making arms and Yannis Philippakis delivered his generally ethereal vocals and reverby high-note guitar riffs.  The disco shuffle and bouncing beats of most of their songs got the crowd moving. But they also managed to dip into other worlds with atmospheric ghost-song "Spanish Sahara" and new harder-driving power guitar anthem "Inhaler," which rises to a scream.  The set ended with Phillipakis crowd-surfing while still playing his guitar.


Genre-bending music was common at The Governors Ball, especially on Day Three. Yeasayer was one of those enigmas, able to package sound experiments in solid pop structures with a beat people can dance to. Everyone sang along to their thoughtful, sometimes strange lyrics ("All your lows will bring their complement of highs," "Control me like you used to," "Life is better when one of us is dead"). Nobody bopping along like a junior high dance in the tent seemed to mind all the echoey synth-noise, strange vocoder moments or jumps from Chaka Khan to country. 

One of the great joys of summer music fests, lounging on the grass listening to beautiful voices floating by, was only possible on day three. Mother nature and Grizzly Bear were there to bring that dream to reality in the last hours of The Governors Ball.  As always, the band's live show was a stunning display of music composition, awe-inspiring vocals and lyrical prowess. But it also had a subtle fierceness with the harder guitars of last year's album Shields.  The sound is so harmonic, hopeful and enveloping that even though the audience knew the songs, they often just stood and stared.  That is, until the chirpy piano intro of "Two Weeks" made for some innocent shimmy-shakes.


After a long break from recording and touring, it was obvious that Bloc Party were thrilled to be back and the fans could hardly take waiting for them to come on stage, chanting, "Bloc Party! Bloc Party!" and whistling after the set start time passed.  Kele Okereke greeted the crowd, "Hello New York City, we're from London, England," with the first of many huge smiles before starting their jam-session. The reunion of fans on this side of the pond with the dance-punk pioneers was mutually rewarding, for a couple songs, before heading over to The xx.


The soft, slow R&B with boy-girl harmony and sparse, echoing guitars The xx produces is meant for pillow talk, sweet nothings and, clearly, a few hundred festival-goers swaying with their eyes closed like they felt every song.  It was still light when Romy Madley Croft and Oliver Sim began, which gave the focus to the vocals of their whisper songs.  Darkness brought their set deeper into a haze with a full light show making two thin Xs and moving cones of light across the audience who.  There were plenty of dancehall moments too with their DJ throwing beats in the mix, but "Crystalised" was the peak—a cuddle-fest of floating reverb around the chorus, "Being as in love with you as I am, Love, love, love."  


Transitioning to the final set after that could have been tough, but since Kanye West was late, there was plenty of time to adjust.  "Yeezus" was in a dark phase for his headlining turn, leading with his new tracks and adding a few from all his albums for 21 songs of constant swagger.  He opened with his social commentary, "Black Racist," set to grimy, hard electronica, with videos of fierce dogs and not-for-sale signs.  "New Slaves" brought even more sinister synths and images of KKK members in black projected on the screen.  He performed almost the entire set out on a platform rising above the audience, true to his self-proclaimed "Yeezus" title and forthcoming album name.  He showed off new track "I Am A God" with lines huge screams in the middle, and aggressive lines like, "I am a god, so hurry up with my damn massage."  As divisive as it might seem, the entire population of The Governors Ball, thousands deep, thrilled to the strong, take-no-prisoners vibe.  Kanye is definitely a god of one thing: producing an exciting live show.
Others Tagged With