Governors Ball NYC 2013: Photos + Recap - Day Two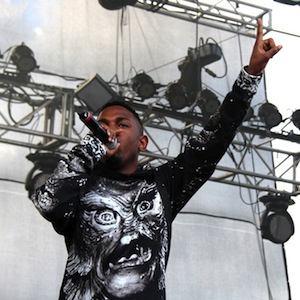 Day two made up for missing headliners with a vengeance. From late afternoon on, it was nothing but major names on separate stages with so much shoe-suctioning mud in between, it was hard to move between them in time. At least tripled attendance, since the organizers honored ticketholders from Day One's rainout, created massive buzz through the fields of mud dunes. Kings of Leon was added to the main stage to make up for their canceled set the night before, shifting the set times and creating more difficult decisions.
While Paper Diamond finished his thumping EDM set filled with spot-on samples and super-deep bass drops that had hundreds of people jumping in unison and doing the hand push (picture an aerial shot with waves of bodies bouncing on the beat), indie rock/R&B stars Dirty Projectors were filing their harmony entourage onto the smallest outdoor stage, where the majority of the indie-rock favorites have been scheduled. David Longstreth's pushed his vocals hard, rising about the three ladies who are on harmony and all the instruments were tight even in their more experimental moments. They started slow, but song two was a surprisingly loud rendition of "Offspring are Blank" with gritty electric guitars and all the vocals at full volume that set the crowd to cheers and whistles.
On the way back to the main stage for Divine Fits, it was hard not to notice the commotion and growl coming out of the tented stage, which was more about dance music on Day One. That was F*cked Up, one of the only true punk bands in the mix at Governors Ball. The four piece band's assault of screamed-out, growling vocals, hyperspeed drums and squealing feedback had surprisingly catchy guitar melodies and a really happy girl-next-door bassist. Lyrics about dying on the inside and a string of flip-offs to the world started a mosh pit over the mud and a few crowd-surfing women were passed forward as an offering to the band. In between songs, lead singer Damian Abraham sat on the edge of the stage for punk rock comedy and real-talk sessions about…F*ed up…doctors, his radio show, the coolness of Hulk Hogan, etc.
Almost the opposite sound, but also subversive in its own way, the Divine Fits set felt exactly like what it was intended to be: a revival of new wave punk-inspired synthpop a la New Order. Britt Daniels from Spoon and Dan Boeckner from Handsome Furs look and play like opposites wearing white and black and giving each other vocal-guitar counterpoints. Though Daniels' distinctive vocal rasp makes any song sound like a cousin to Southern Rock, their driving guitar melodies mixed with excellent synthpop composition was danceable, just dark enough and fun.
Alt-J's quiet, floating, yet full sound drew a crowd on the second stage that spilled into the walkway, as the afternoon waned, casting golden hour glow over Randall's Island. Joe Newman mesmerized the audience with his instantly recognizable, gauzy vocals that pled don't go, let's tesselate, triangles are my favorite shape. Most of the guys in the audience sung every word while girls held up their hands, showing Alt-J their triangles. The subtleties of their guitar finger-picking, drumstick tapping and heart-wrenching harmonies stood out among the rest of the lineup on Day Two of The Governors Ball.
Edward Sharpe and The Magnetic Zeros is a zillion-piece band with a hippie, down-home aesthetic and a loaded, high-energy live show. Organs, accordions, African drums and a cadre of acoustic guitars and all 13 member's voices produced a huge sound and Edward Sharpe played to the audience with flash, even if there were holes in his pants and strands of hair falling out of his bun. "Safety Love" was a showcase of their upbeat, communal atmosphere vibe with giddy dancing on stage and in the crowd and people reaching toward the stage. One woman gave him a greeting card and he read it on stage.
Kings of Leon played a make-up set instead of headlining Day Two, apologizing for not having all their gear because they were due to be in London, but said they'd give it their all anyway. Starting with the bleeping guitar melody of their hit, "Radioactive," had the audience whistling right off the top, but it took a couple songs for Jacob Followill to shake off his shyness and let his falsetto soar. They did not disappoint the large, mostly male crowd, some of whom came on honored tickets from Day One. Chopped-up, blinking projections of their live playing and a slew of back-to-back hits incited several sing-alongs—particularly for "Radioactive," "Use Somebody," and "Sex on Fire." Though it was sometimes hard to hear the lyrics, it really didn't matter with Followill's gritty, piercing voice ringing out. At All Points West three years ago when they debuted "Sex on Fire," Thom Yorke said if he was that good looking, he'd be famous. All the free-spirited ladies in the audience would probably concur.
Animal Collective was as weird as they wanted to be, playing mostly their more experimental, extended songs before giving the crowd the hits. With a headlamp, scientist jumpsuit and blow-up kaleidoscope-colored horns, the image was definitely matching the music. As night finally fell over The Governors Ball, they played their biggest hit, "My Girls," which brought mud-dancing and skipping with the sing-along.
Hip-hop artists are few at this year's Governor's Ball, but they are also top-notch. Both Kendrick Lamar and Nas played on Day Two and either one could have competed for headliner status given the giant crowds they drew. Kendrick was the more dynamic performer of the two, talking to the crowd a lot, the Compton, Calif. rapper asking if this was New York f*cking city and could they scream louder? He constantly ran back and forth the stage in his horror-themed jumpsuit and the audience rapped over every chorus of his songs, old and new. He said, "This isn't just a show, this isn't just a concert, this is a party," before "Swimming Pools (Drank)." The audience added the "drank" every time it came around, raised their hands in the air and bouncing for most of the set.
If there was any doubt whether the hard-rock veterans Guns 'N Roses could start a party at a mostly indie-rock festival, let those fears be put to rest. The set began with a bang—a real one—from a set of high-decibal pyrotechnic torches that were set off dozens of times during their set. Sometimes it was noise with fire-rain or just straight fire, sometimes it was smoke. But it was all show. Axl Rose still has pretty amazing metal chops given his twenty-plus years of hard living, and he brought a Slash replacement, DJ Ashba who knew how to solo and shred with enough force to send quivers through his own body, let alone everyone else's. There was definitely a little comedy in the mix with Axl's naked female torso shirt gyrating along with his hips and videos of various, scantily clad women and upskirt shots of ballerinas projected next to him—no doubt that Axl still loves the ladies. Making "Welcome to the Jungle," the second song was a good move, it was the most off-the-hook, bananas moment of the day with literal screams and let-it-all out dancing. They played all the hits from Appetite for Destruction, including the ballads with some tunes from Chinese Democracy that nobody really knew. "Sweet Child of Mine," was the predictable audience favorite.
Closing the night, at the same time as GNR, but with a very different flavor, was Nas. His crowd was definitely huge and he came packing a live band, in addition to laptops and samplers. He said, "I don't hang out too much, but I definitely come out The Governor's Ball." He played a collection of his hits from Illmatic and Stilmatic, towards the end doing a medley of intros saying, "Here's another classic," before each one. But his end-of-day crowd didn't stick and started to wander out before his set was over. With five headliner-level artists in one day, it's hard to blame them for amazing music overload.
Others Tagged With