Photos: The Postal Service - Atlanta, Ga.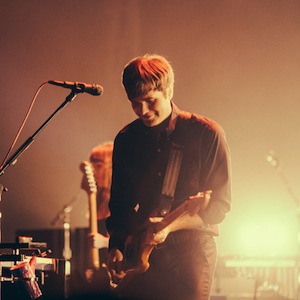 You know that moment at a show, during the first few measures of a song, when the audience registers that the performer is about to break into one of their favorite tracks? Well, that's how just about every song kicked off when The Postal Service played at The Fox Theatre in Atlanta, Ga.
Ben Gibbard, Jenny Lewis and the band of all-stars behind them kicked off the evening with "The District Sleeps Alone Tonight," with Gibbard's upbeat dance moves making it clear that this would be a starkly different performance than those we might have seen from Death Cab for Cutie. The audience sang every word, and the band kept the crowd's involvement by following up with "We Will Become Silhouettes."
By the time Gibbard even greeted the adoring crowd, it was clear that he could do no wrong, despite the sometimes-awkward synchronized swaying with a radiant Lewis, who inspired a particularly loud applause for her duet in "Nothing Better." Gibbard and Lewis were clearly elated over the enthusiasm of the crowd, and it showed as they jumped around the stage.
"The only reason we're here is because hopefully this album means as much to you as it does to me," said Gibbard as they began to play the band's hit, "Such Great Heights," near the close of the show.
The band's encore was a brilliant clash of sound leading into "Brand New Colony," and their steady chant that "everything will change" seemed to echo Gibbard's earlier musing about the band's last appearance in the city, years ago at East Atlanta's (much smaller) venue, The Earl. Fortunately, though, at least one thing has remained the same: The Postal Service stills puts on a meaningful and memorable show.
Check out Bobby K. Russel's photos from the evening in the gallery below.
Others Tagged With