Wakarusa 2013: Photos & Recap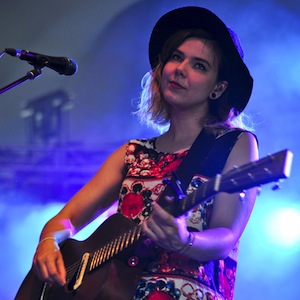 Day One
From day one of Wakarusa 2013, a single dominating force made itself the center of attention. It was all anyone at the festival could talk about, and not one person there was left unaffected by it. Unfortunately, that force wasn't Calexico or Yonder Mountain String Band or any other act that played (or didn't play for that matter) at the festival. No, the egocentric star of Wakarusa this year was without a doubt the weather.
Staff members and festival goers with early admission tickets were thrown into chaos when a hailstorm blew in Wednesday night. Several people told us about how they took to the safety of their cars while their campsites were destroyed by falling ice that was roaring so loud they had to shout to talk over it. We had just gotten the last corner of our tent staked down after we arrived Thursday morning when another storm rolled in, unleashing a torrential downpour. We took refuge under a canopy clutching our sleeping bags and backpacks and waiting for what seemed like hours for the rain to subside. Some of the lightning struck so close to us, it looked like it might have even hit within the festival grounds. Our tent only blew away once, luckily.
The Main Stage area of the grounds was closed most of the day, and a large chunk of the shows were either postponed or cancelled altogether. With the stage schedule being so up-in-the-air, it was difficult to figure out who was playing where, if at all. Some of the side stages eventually opened up when the rain slowed down a bit. So, we ventured out to see what we could find.
We missed out on Calexico while Main Stage was closed, which was a huge disappointment, but there were still plenty of great shows to be had. The first act we caught was a DJ performing at the Satellite Stage. We got there a little late because of the inclement weather, and everyone we asked was equally confused as to who was playing, but the consensus seemed to be that it was RL Grime. To be honest, it didn't really seem to matter to the patrons who was playing. They were just hungry for a performance of any kind after being frustrated by the hiccups the weather had caused. The excited audience crowded in at the front of the stage to dance the rain out of their shoes. At one point, three fans were so stoked about the show they climbed a hanging vine in the woods and began to swing back and forth to the pounding beat of a Kendrick Lamar remix.
Later, we headed over to the Revival Tent, which was already becoming a mud pit, where we caught the tail end of Karl Denson's Tiny Universe. We only got to see the last few songs, but Denson's jazz/funk stylings had us dancing almost immediately. After that, we hopped over to the Outpost Tent for a little bit of Nashville's Moon Taxi before heading to Main Stage to catch our first headlining set of Wakarusa 2013—The Black Crowes.
The show was fantastic. The band definitely looks quite a bit older than the last time I saw them live, but there performance seems to have only gotten better. Even when clouds for yet another storm started rolling in, the band kept tearing up the stage with squealing riffs and southern soul.
The Black Crowes were able to finish out their set, but not too far into the STS9 show that followed, officials cut the performance short because of, you guessed it, more storms. The last round of weather actually ended up passing us by, and the late night electronic sets like Emancipator, Tipper, and Totally Enormous Extinct Dinosaurs could be heard booming from the side stages well into the night.
Day Two
After the heat of the sun forced everyone out of their tents on Friday morning, it was time to start recovering from both the previous night's storms as well as the previous night's beers. We were pretty lucky in that our campsite remained relatively intact, but some patrons weren't so fortunate. As we walked through the grounds that morning, we saw collapsed tents and the mangled metal structures of piles of canopy parts that were destroyed in the high wind and rain. However, an assembly line of patrons we encountered seemed determined to lift everyone's spirits with their cheerful nature and the delicious Bloody Marys they were selling, complete with an oversized celery stalk and a strip of beef jerky.
Yes, Wakarusa fans were determined to have a good time and not let a little thing like inclement weather spoil their fun. It's always nice to see the kindness that comes out in people at festivals as well, particularly camping festivals. We saw neighbors helping each other rebuild their campsites, and one group was even cooking and serving free breakfast to festival goers, only asking for more breakfast supplies in return to keep providing. We traded a couple of apples, a banana, and an orange for an egg sandwich and some sausage that were to die for.
With our tummies full, we decided to venture into the main festival grounds to stroll around and hang out before the first show we were really looking forward to -Allen Stone. The R&B/soul singer immediately grabbed the audience with his high energy and warm personality as he strutted around the stage in an untucked button-up and a fedora. The crowd was unfortunately small given Stone's superb talent and performance, but he wowed the audience with his incredible voice and range—a range that sounds almost impossible on the record and reaches "I can't believe my ears"-status when heard live. Early in the set, a cover of Bob Marley's "Is This Love?" seemed to resonate especially well with the crowd. But by the time he got to "Unaware," Stone had the festival goers in the palm of his hand, putting on the show of his life as he belted the lyrics to the heavens. Words can't describe how impressive it was.
The Allen Stone set was the first of several overlapping performances from some of Paste's favorites. So unfortunately, we had to leave Stone early to get to David Wax Museum's Backwoods Stage set. Backwoods is probably my favorite stage at Wakarusa because it's nestled beautifully in the forest, and the shows always feature some of the best up-and-comers. Last year, we saw The Lumineers play a heart-wrenching set to a tiny crowd. David Wax and the gang gave a similarly intimate performance this year. Wax looked a little more grizzled than when I saw him last at SXSW 2011, but his blue eyes were just as piercing as he strummed his jarana, a Mexican folk instrument that falls somewhere in between a ukulele and a guitar. The look of confusion on everyone's faces was priceless when Suz Slezak walked out carrying a donkey's jawbone—almost as entertaining as watching the smiles appear when they realized the quijada was a percussion instrument.
We once again had to leave the set early in order to get to Of Monsters and Men on the other side of the festival grounds. As we neared the Revival Tent, we realized how bad the mud had gotten after all the rain and foot traffic. The muck was already up over our feet, slowing us down quite a bit. OMAM was fantastic, but it was a mistake putting them at the Revival Tent. The area was overflowing with fans, so between the crowd and the mud it was impossible to get a good spot by the time we got there. Next time they play Waka, they'll be on the Main Stage without a doubt.
Next we saw MUTEMATH, who put on a powerhouse performance. Sweat was absolutely raining from drummer Darren King's body as he pounded the shit out of his kit. Eventually, he had to step out from behind it to pick up a monitor speaker and toss it onto the riser and in front of the bass drum to keep it from sliding away from his furious foot on the pedal. Frontman Paul Meany was absolutely electrifying on the keyboard as he worked the crowd with his energy, often leaning over the rail into the arms of fans as he sang. The set ended on an incredible note as Meany held the last chord by doing a breakdancing stall on the keys.
The main headlining set on Friday was Dispatch, and a huge audience had gathered for the show. The songs were powerful and moving, and the trio managed to make the Main Stage set feel incredibly intimate, especially when Brad Corrigan came out from behind the drum set to play the djembe at the front of the stage with Heimbold and Urmston. The band played several fan favorites like "Open Up," "Elias," and of course "The General," along with a fair amount of covers.
Shortly after the set, officials announced that yet another violent storm was on its way and everyone should take shelter in their vehicles. It was definitely the most horrifying storm we experienced at Wakarusa. The winds were fierce as thunder and lightning crashed all around us. There were moments when we literally thought we weren't going to make it, but after a few hours the storm moved on enough that we could sleep without the fear of death. Or maybe since it was around four in the morning, we were just so exhausted we couldn't stay awake any longer. The last thing we needed at Wakarusa was more rainstorms, but I guess I can't think of a more exciting way for Day 2 to end.
Day 3
Wakarusa took a beating during Friday night's storm, and the aftermath was all around on Saturday morning. The structures of destroyed camping materials had grown exponentially, but at least Waka fans have a sense of humor and began decorating them as works of art. The mud reached an unbelievable level by Day 3. It was almost impossible to walk anywhere in the stage areas without treading through ankle-high, smelly muck.
The stage schedule was also affected as the officials closed the Main Stage area to try and restore it a little bit. GROUPLOVE, another show we we're really excited about, ended up getting cancelled, and many other shows were postponed. We ended up starting the day with some reggae rock tunes from Rebelution before checking out Gogol Bordello.
I was familiar with Gogol, but I had never seen them or listened to their music much before. So, I have to admit I was blown away. I could barely even comprehend what I was seeing at times. The group was full of energy, dancing around the stage and getting the crowd riled up. There was a huge sing-a-long during "Break the Spell," and during "Start Wearing Purple" lead singer Eugene Hutz opened a bottle of wine, started drinking, and then spraying the liquid all over everything and everyone. When the bottle was empty, he started using it as a mallet, pounding the bottle on the bass drum. It was one of the most rock and roll things I've ever witnessed. Later, another band member reached down into the photo pit, grabbed the camera that was projecting their performance on the screens, and began filming the stage with manic movement. The camera crews were stunned, and it was hilarious.
Gogol Bordello wore us out with their insane performance, but there was no time to lose as we raced over catch some of Del the Funky Homosapien. An impressively large crowd had gathered for the show, so once again, between the people and the mud it was hard to get a good spot, but the music sounded awesome. The crowd went wild when Del launched into his hit collaboration with Gorillaz, "Clint Eastwood." When the audience dispersed after the show, we grabbed a mostly dry spot for the next performance—a tribute to Daft Punk from the Crescent City outfit, Earphunk. The show was easily one the most enjoyable of the festival as the band reinterpreted the French electro duo's work for live instruments. Earphunk selected tracks from throughout Daft Punk's career including "One More Time" and "Harder, Better, Faster, Stronger," as well as songs like "Something About Us," number that Daft Punk doesn't even perform live that often. The even performed a couple of tracks from the new record with the single "Get Lucky" erupting into our second sing-a-long of the day as everyone danced holes into the mud.
We decided to end our night with a little bit of Umphrey's McGee before heading back to the campsite where the sounds of the late-night electronic acts lulled us to sleep.
Day 4
The last day of Wakarusa is usually a bit more laid back than the previous days. In past years, a lot of the patrons leave a little early since most of the big acts have already played, but this year there were two headlining acts on Sunday that kept many festival goers around for one more night—Snoop Lion and Amon Tobin. Since those shows weren't starting until later in the afternoon, we decided to hang out at Backwoods for a spell.
We finally got the beautiful weather we were waiting for all weekend by Sunday. Perfect temperatures, blue skies—you couldn't ask for more sitting in the serenity of the Backwoods area. One of the best small acts we saw at the festival came on shortly after we arrived. The Last Bison from Chesapeake, Va. walked on stage in almost matching vests looking like a majestic Mumford & Sons. Frontman Ben Hardesty resembled a lion with his glowing long blond mane and matching beard while violinist Teresa Totheroh charmed us with her unwavering smile and bubbly personality. The seven-piece band quickly captured our hearts and those around us with their earnest folk tunes. While their music can easily be compared to elements of Mumford, The Decemberists, or Fleet Foxes, The Last Bison's style is completely their own, featuring an almost medieval characteristic. The band seems like they would be right at home performing from the wagon of a traveling medicine show. The Last Bison's cover of M83's "Midnight City" got anyone hesitant about the band up on their feet and dancing.
Snoop Lion's Main Stage set drew one of the largest crowds we witnessed all weekend. An informational video preceded the performance to explain exactly what Snoop Lion is and how he came to be which, if you haven't heard the story, involves a Rastafarian priest and—ah, who cares. Snoop took the stage in full reggae regalia, sporting a Rasta beanie and a Bob Marley t-shirt. The music was a mix of hip-hop, reggae, and a little calypso featuring new Snoop Lion tracks like "Here Comes the King" and old Snoop Dogg favorites like "Gin and Juice." The show featured everything from backup dancers to a performer in a dog costume. Snoop Dogg even paused to light up a blunt, asking the crowd who all was smoking weed in the audience. The cheers and plumes of smoke billowing up were the only answers necessary.
We had heard a lot of hype surrounding Amon Tobin's set leading up to the performance, and it was definitely something to behold. Tobin's music is electronic, but it doesn't resemble any electronic artist you've heard before. His samples sound like real instruments, and he incorporates elements of jazz rather than typical bombastic electro flair. Tobin's songs never build to the "drop" that has become a standard in the electronic genre. Instead, his music tends to meander in a trance-inducing fashion, swelling and dissipating beautifully. It's almost as much about the silence in between as it is about the actual music.
Tobin's stage piece was equally as mesmerizing and difficult to describe. It was a huge arrangement of staggered blocks with a screen on the face of each one, creating a singular massive projection. Tobin performed from inside the space of an absent block as the imagery on screen swirled around him. I have to admit I was lost in it. The performance did suffer slightly form the fact that the set piece was positioned too far back on the stage, so anyone siting even remotely to either side would have a very difficult time getting the full experience. I think it was also a bad idea to schedule Tobin right after Snoop because it was hard to segue between the two completely different styles of music and attitudes.
This was by far the roughest Wakarusa we've ever been to. There was a lot of adversity to overcome due to the weather and all the lasting problems it caused, but we still managed to have a great time. I think it's also important to point out what a great job the Wakarusa staff did maintaining the site and keeping everyone safe through the whole festival. It can't have been an easy job, but they worked remarkably hard to pull it off.
We'll see you next year, Wakarusa!