Forecastle Festival 2013: Photos + Recap - Day One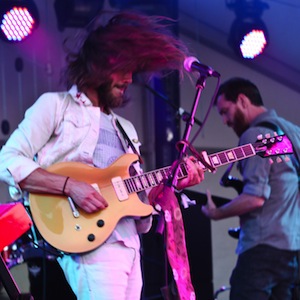 After making it through intense highway traffic and getting lost a few times, we finally made it to the festival grounds at Louisville's Waterfront Park, which was filling up with festival goers basking in the warm, breezy weather. Wide-eyed Forecastle first-timers, we set out to soak up everything Waterfront Park had to offer.
Houndmouth
Houndmouth managed to draw out the first big crowd (not to mention the biggest crowd they'd ever played to) of an otherwise tame day one. Taking place on the Mast Stage—one of two that sit right on the waterfront—the band played a fantastic set featuring of their own content (amplified by the appearance of 23 String Band's Scott Moore) and even a cover of John Prine's "Quiet Man." A show that appealed to the masses, folks from ages 16 to 60 were mouthing the words. I found myself definitely catching Houndmouth fever as the group's fun set mimicked the gorgeous Kentucky day: sunny and downright enjoyable. -Rachel Haas
Old Crow Medicine Show
First things first: Yes, they played "Wagon Wheel." And yes, everybody loved it. Maybe a portion of the crowd was only familiar with that late-night college bar classic, but it wasn't what kept them there. The boys onstage were full of energy, fiddling away an old-timey soundtrack as the sun began to set. -Rachel Haas
Night Beds
As I neared the Port Stage on Friday, Night Beds had already begun their set. Even though they are only a three-piece band, they produce an impressive sound that washes over the crowd. If there was any sneaking suspicion that the band might be just like any other alt-country Americana band, Yellen put them to rest. Rising from velvety depths to soaring falsettos with ease, he cut through the crowd chatter and noise like a knife. -Lori Keong
Big Boi
There was a party to be had for Big Boi's set. Hands were in the air, bodies were moving as the crowd chanted, "Everybody move to the back of the bus" at the beginning of his performance. Later, we all went wild when Big Boi teased us with the opening strains of "Bombs Over Baghdad," a song which then headed off a string of more OutKast favorites like "Fresh and Clean" and (duh) "Ms. Jackson." I'm for real when I tell you that it was a jarring move from Night Bed's sensitive set to BIg Boi's rump-shaking Forecastle stop, but it was a refreshing one. -Lori Keong
Young the Giant
There wasn't really much room to see in the packed crowd that had gathered to watch Young the Giant, and the band knocked out a high-energy set of their most popular hits—even having their set accompanied by a round of fireworks—which were balanced by some new material. Glow sticks were tossed like candy and good times were had, but singer Sameer Gadhia's usually very strong vocals seemed overshadowed many times by the volume of the drums. -Lori Keong
String Cheese Incident
If Young the Giant ushered in the night, then String Cheese Incident really got the after-dark party started. Even at the end of the day, when feet started to ache and the day's alcohol began to beckon patrons into a state of sleepy unconsciousness, the night's headliners were able to get the crowd moving—hoola-hoopers, flailers, do-si-do-ers, swayers and every dance move in-between. Those who plowed through their exhaustion were rewarded with six dudes who played the hell out of a one-and-a-half hour set. But even if jam bands aren't your thing, man, the psychedelic light show would've kept you entertained.
From songs off their discography like "Sirens" to a funky, bluegrass/rock rendition of Aerosmith's "Walk This Way" it had equal parts energy and chillax-ness to cap off the night. -Rachel Haas
Photographers Julia Rickles and Haley O'Brian were on site to capture some festival moments, too. View their photos in the gallery below, and stay tuned for mroe Forecastle coverage in the coming days.
Others Tagged With