Forecastle Festival 2013: Photos + Recap - Day Two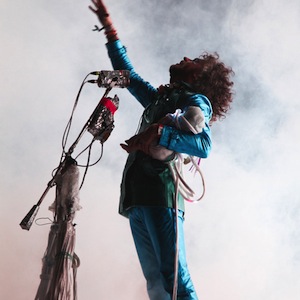 Cloudy skies loomed over the second day of Forecast Fest as we prepared for a long day with some our favorite acts in the lineup. Inclement weather, however, put a damper on all of the festivities when we were asked to evacuate for an hour. Acts were delayed and sets cut short, but the musicians brought their A-game, saving a day that was near-disaster.
Shovels and Rope
To kick off our second day at Forecastle, Shovels and Rope served the crowd gritty Southern rock jams that had people head bobbing and toe tapping. As the sun beat high over our heads, they really won us over with a stomping, mile-a-minute version of "Kemba" where they sang, "Come to Carolina and your drink's on me." My favorite moment of the set was when Cary Ann Hearst took over the drums and Michael played the electric guitar, breaking into bluesy rock 'n' roll. It was the perfect way to start the day on a high note. -Lori Keong
Foxygen
If Wayne Coyne (Flaming Lips) shows up to watch, you know you're in for something awesome. Well, that awesome set at Forecastle was Foxygen. Part concert and part theatrical stage performance, frontman Sam France jumped on speakers, channeled his inner gargoyle and rolled about on the stage, all with a permanent smile on his face. Fans went nuts for the wildly entertaining band—the only damper being a late start and early finish that irked some attendees. -Rachel Haas
Kurt Vile & the Violators
Watching Kurt Vile and his band was like spending a day with your friends (if your friends were in a cool rock band and looked like they'd just stepped out of Dazed and Confused).Vile provided one of the first performances post-evacuation and delivered a very chill get-to-know-you-again, welcome-back hangout. -Rachel Haas
The Joy Formidable
The Joy Formidable emerged on stage with a grin and channeled positive vibes all throughout their set. "The storm clouds have blown away, so let's have a good time," lead singer Ritzy Brian crowed. The band had plenty of cheerful banter to throw back and forth between songs and heavily encouraged audience participation. Their lively energy was contagious and was the perfect pick-me-up that we needed after the weather delays. -Lori Keong
Alabama Shakes
Taking the main stage before an impressively-sized crowd, Alabama Shakes wowed all those present with their passionate yet somehow intimate sound. Brittany Howard was on the soft-spoken side when she chattered with the audience but, for the most, it was a no nonsense show: minimal filler, maximum music. "I wouldn't bullshit you, that's not in my nature," Howard said during the show. "Or would I?" When it comes to playing, it's no bullshit—it's all real. -Rachel Haas
Jim James
While Jim James may seem like a quiet guy with folk sensibilities, he is a wild, unforgettable performer. You know those private jam sessions where you jump around, toss your hair wildly, and make like you're slaying the guitar to a fake audience? Well, Jim James did all of that and more on Saturday evening, playing to a huge crowd that followed his every move. Leading his set with "State of the Art," he rolled into more jiving numbers, and his backing band rocked an epic drum solo on three kits. James even twirled around, raising a golden panda in the hair, like a tribal shaman. One of the best of the night? Check. -Lori Keong and Rachel Haas
The Flaming Lips
For the Flaming Lips show, consider every square foot of the green covered with people clambering to see Wayne Coyne as he climbed atop a mound of light-up electrical tubes—"jellyfish," as many people called them. A woman behind me yelled, "You're my kind of weird!!!" at Coyne, and I have to say I couldn't agree more. Like an outer space king, the zany Lips frontman beamed a flashlight on us, blew bubbles at us and smiled at a fake baby that he held in his arms. He also conducted the audience as they raised their fists to "The W.A.N.D" and went dreamy-eyed to a slowed-down version of "Do You Realize???" Long live the Lips. -Lori Keong
Matt & Kim
Shit, Matt & Kim, you guys sure know how to put on a great live show. You come out, guns blazing, quoting Jay-Z before throwing on samples of super-danceable tracks like Salt 'n Pepa's "Push It" and "Apache (Jump On It)" and managing to meld them perfectly with your own personal brand of energetic tuneage. There are random dance interludes, free merch and wacky antics—but the music never falters. Yeah, you two might be a little strange, but I love you for it. Everyone thanks you for an amazing time. -Rachel Haas
The Black Keys
After a tiring day at the festival, The Black Keys picked up the slack from delays by tearing through a set of new El Camino songs mixed in with favorites from Brothers and as guitarist Dan Auerbach put it, an "oldie but a goodie"—"Strange Times." Staring off their set with a roar on "Howlin' for You," they rocked and rolled at a pace that left our heads and hips struggling to catch up. Having never seen the Black Keys live before, I was impressed by how grounded and tight they sounded, considering that they hardly gave themselves the opportunity to take a breather. The most impressive part was hearing the crowd whistle together on "Tighten Up" and bust loose to their shaking version of "Lonely Boy." I couldn't wipe the dumb grin off my face when the flashing lights came up on a 'Black Keys' sign as they closed their hour and a half-long set. -Lori Keong
Photographers Julia Rickles and Haley O'Brian were on site to capture some festival moments, too. View their photos in the gallery below, and stay tuned for mroe Forecastle coverage in the coming days.
Others Tagged With