Outside Lands 2013: Photos + Recap - Day Two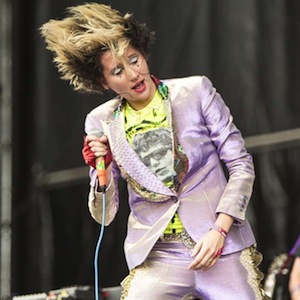 After an order of fried mac and cheese balls with some kind of red dipping sauce, I'm ready to take on the day. It's Saturday at Outside Lands—the bands are playing the sun is shining and the air is crisp.
Bauuer was interesting. Most know him only as the composer of "The Harlem Shake," and it's always strange to watch a musician you may never see in concert again simply because they won't be relevant anymore. Nonetheless, Bauuer played to the crowd with an energy that was hypnotizing enough to dance to.
The Yeah Yeah Yeahs were next. The lead singer, Karen O, came out dressed like a pharaoh with a shiny purple and gold dressed and an angular headdress. True to form, she sang each song like it was her moment—seemingly soaking in everything in between notes. Her voice was screechy and experimental. In her defense, she appeared to be doing it on purpose- like Alice from Crystal Castles. Although some songs like "Maps" sounded like silk, others were over the top and resembled screaming more than anything.
GRiZ won the category "Surprisingly Best of the Night" for me. At 21 years old, he sampled tracks that debuted way before his time such as Parliament's "We Want the Funk" and "Shout" by the Isley Brothers. His transitions were clean and his mixes were catchy and fun. A crazy light show on stage got the audience pumped. At one point, the crowd-pleasing song "The Next Episode" was mixed to make it sound like Snoop and Dr. Dre had fallen down the rabbit hole to Wonderland. The performance could have been two hours longer and people would have stayed to dance to GRiZ's alluring beats.
Phoenix already has the likeability factor—it's hard to not enjoy the mellow beats, calming chords and soft voice of lead singer, Thomas Mars. They sounded just like their albums, keeping true to their nature. At one point during "Entertainment," Mars started to crowd surf and just kept going. Red lights filled the stage for most of the set and colored lights projected over all of the audience.
During the set a couple of guys climbed up onto the park's public bathroom roof to get a better view of the band. Before long, over 50 people were on the roof dancing. Security guards climbed up with flash lights and broke up the party before anything collapsed, but overall the party on day two was a success.
Check out photographer Philip Cosores' images from day two at Outside Lands in the gallery below.
Others Tagged With