Photos + Recap: FYF Fest - Day One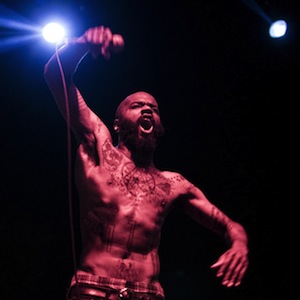 FYF Fest turned 10 years old yesterday, kicking off the first of two days packed with music rooted in the punk, indie, and underground scenes. But, this year, "packed" is even more subjective than the word usually is, as the downtown L.A. event introduced changes this year that seemed to opposed the common festival trajectory of expansion. Essentially, the festival receded. It maintained the two-day status launched last year, but fewer bands were booked, fewer stages were erected, and it seemed less like an effort to milk profits. Between finding free parking, water bottle refills and a wide array of delicious food options with filling portions, you could easily spend less than $20 on top of your $99 two-day pass and be comfortable and content.
Less did appear to be more on day one. Pushing back the start time by two hours meant less time to have energy drained in the Southern California heat. And, as founder Sean Carlson has noted, there's no point booking bands to play for 10 people. Every set seemed well-attended and the energy level, though appropriate depending on the act playing, was remarkably mature. When was the last time you went to a big festival and didn't find consistent excuses to never leave the house again and register to vote because the next generation is clearly insane? Exactly, it's been a while for me, too.
The biggest storyline was a headliner, but it wasn't the dependable and particularly swagger-proficient Yeah Yeah Yeahs on the main stage (er, Carrie Stage). No, the main event for Saturday was a scheduled appearance from Death Grips. When your last concerts involved controversy, fan rioting, enough think pieces to make us never want to talk about it again and the canceling of all future tour dates, your first concert back becomes a big deal, even if it has only been a few weeks.
Death Grips showed on the Miranda Stage (getting the theme yet?), pummeled through their chaotic rap-punk-armmageddon tunes, and kind of made people forget why they hated them/cared about them. Take away all the controversy and Death Grips is captivating in performance and energy, but the actual music needs more attention than is possible in a sardine-tight swarm of bodies.
Yeah Yeah Yeahs, on the other hand, seemed deserving of their closing spot, bringing a different set than their recent non-headlining spots at Coachella and Outside Lands. Karen O came out less playing to the audience's affection, more jumpy, giddy, playful and all-around entertaining. She always seems like she's having a good time on stage, but Saturday's Karen O might have actually been having a good time. Maybe all the Sex In The City got to me, but if Karen O wasn't married, wouldn't she and Nick Zinner make the best couple? Maybe that's a conversation for another time, but they've got a chemistry there. Just saying.
The night's best set was TV On The Radio, which was somewhat surprising considering the complicated relationship the band has with festivals. From opener "Young Liars" to three new songs, including the gentle and passionate "Million Miles," the sadness that was unavoidable the last time these guys were on the road seems to have dissipated and the band seemed particularly pumped to be back on stage, and leaned on powerful jams like "Blues From Down Here," "Wolf Like Me," "Golden Age" and closer "Staring at the Sun." From the sound of the new material, we could see a major rebound from their last disappointment, and they have the live show to back up any attention they receive.
Rounding up the rest, Bradford Cox backed up The Breeders and the ladies had the second best set of the fest thus far (hat tip to the one fan yelling "Pod" repeatedly). Cox put on a dress for Deerhunter's set. Ty Segall went acoustic and it kind of ruled. Mikal Cronin doubled his hair whips to compensate for Ty's new seated set. METZ and Waxahatchee lived up to their blossoming reputations. The Underachievers told us our beats suck on the West Coast and we cheered because we are mostly rock fans and could care less. Chaz from Toro Y Moi had huge hair and the best smile in the business. Flag confirmed that they are not Black Flag but that wasn't a bad thing, and Delorean opened with "Seasun" landing the best song I heard all day.
Lastly, Devendra Banhart had the loudest, most ridiculous crowd of the day. Apparently he is like a greek god to young women, who were freaking out at his lovely sunset performance. The fans even new all the band members names and fawned over their good looks. Check out the photos below.