Photos + Recap: Boston Calling 2013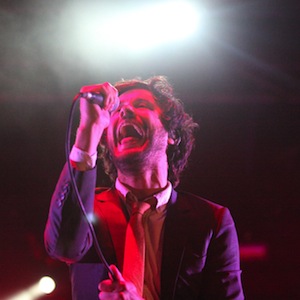 When a city's trying to get a major festival franchise off the ground, they've usually got one go at getting it right the first time with years of perfecting to follow, packing a wallop of a punch with a stellar lineup that culls from big-label talent and indie upstarts alike. For Boston Calling, jaws dropped across City Hall Plaza back in May when the festival announced that its victory lap of a first showing would continue on into a second installment in the fall, with Vampire Weekend and Boston band poster children Passion Pit headlining the main stage on their respective days.
This time around, the Boston Calling lineups for Saturday and Sunday embraced distinctly different vibes—Saturday was all about arena guitars and sing-along superiors, while Sunday measured its successes by moving bodies to the tune of a pop and EDM slant—with pepperings of rock and hip-hop throughout. The book-end strategy for the summer worked for Boston Calling and the 70,000-odd people the festival drew between Memorial Day and Labor Day, and if this weekend was any indication, this looks like a new summer tradition the people of Boston will embrace with arms that are ready to throw their hands in the air. We were lucky enough to catch some of our festival season favorites—Solange, Lucius, Vampire Weekend and Kendrick Lamar, to name a few—so here's a rundown on the sounds we loved from Boston Calling.
Local Natives
Back in 2009, before Gorilla Manor was a figment in the imagination of impatient critics, Local Natives hit the CMJ Music Marathon in New York City, harmonizing like otherworldly, mustachio-ed dreamboats on roofdecks and basements across the Lower East Side. Now, with international domination secure via extensive touring and universally adoring praise for the approachable pop rock of 2013's Hummingbird, huge crowds and the potent enthusiasm of a festival environment suit Local Natives just fine. "Breakers" went over especially well with the Boston Calling crowd, as did the magnificent breakdown of "Airplanes."
Local Love: Viva Viva, You Won't and Bearstronaut
In May, the only Boston bands to hit the lineup were the sensational talents of Bad Rabbits and Caspian. In September, Boston Calling doubled the local scene's presence by including Bearstronaut, You Won't, Viva Viva and Royal Teeth, the last two gaining entry to the festival's stages via a competition through Sonic Bids. They were all absolutely outstanding—anytime a band whips out a harmonium or a melodica is okay by us, so tip o' the hat, You Won't—but Viva Viva in particular took to the bombast of the setting before them especially, plowing through a sound perfected in a murky, stale beer-tainted garage and catapulting it into the ears of unsuspecting passerby.
Solange
Solange's live show is a flawless, seamless gem of a performance, one that touches on youthful adoration, blissfully naïve love tropes and a beat that couldn't quit if it tried. If "Losing You" isn't topping Best Of lists across the board at the end of 2013, we're giving up on everything, because after this festival season, the power of that single through earphones or massive amplifiers is undeniable.
The Gaslight Anthem
Bands who have long careers change. Drastically. That doesn't mean they no longer like what they did in the past or what got them where they are. It means they have to create and be true to who they are RIGHT NOW, not be true to what people want them to be." That passage is from a manifesto of sorts penned by Brian Fallon of The Gaslight Anthem back in July, a bit over a year after their last record, Handwritten, was released and on the tail of a three-night run in New York City. Whatever The Gaslight are doing to shake things up and follow their creative ambitions, it's working brilliantly, as the set they put before their adoring, screaming along fans in Boston was lapped up in 4/4 time. Arguably the most rock-and-roll act on the bill—sorry, I'm not giving that distinction to Vampire Weekend, who looked overwhelmingly bored playing their closing set immediately after The Gaslight Anthem's—Fallon and company were merciless in their pursuit of reverbed nirvana.
Major Lazer
For everyone who skipped Major Lazer at Boston Calling that's obsessed with Beyoncé's "Run the World (Girls)" and Santigold's "Big Mouth," y'all did it wrong, because the track that both pop priestesses sampled was Major Lazer's "Pon de Floor," which had the crowd dancing so furiously that bricks from City Hall Plaza were in danger of shaking their molding free. Major props to Diplo, too, who threw himself into one of those giant beach ball things (the kind that brother in EDM Tiesto accidentally gets stuck in in this commercial) in the name of preaching euphoria.
Passion Pit
Every single time Passion Pit makes the rounds in Boston, Michael Angelakos falls all over himself with gratitude, profusely thanking his friends and his fans for supporting the band since its infancy at a number of the city's venues. Passion Pit's explosive headlining set Sunday night was no exception, with Angelakos gleefully thanking the crowd in between sky-high falsetto riffs and barrages of endorphin-heightening choruses for "Take A Walk," "Sleepyhead" and grand finale "Little Secrets." If there was any proper, textbook way to close out a festival like Boston Calling, it was with a banger of a set like the one Passion Pit flawlessly executed, and should serve as a new standard for giving up-and-coming indie bands that platform (and exposure) they deserve to reach their full potential.
Check out photographer Jason Speakman's images from the festival in the gallery below.
Others Tagged With