Photos + Review: Dr. Dog - New York, N.Y.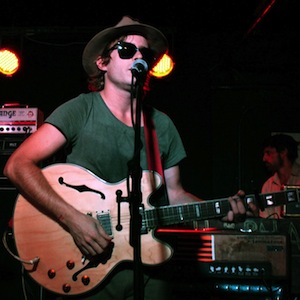 New York City's Mercury Lounge never felt much like an intimate space to me. It's a weird size—not quite the monumental Terminal 5 scope, but definitely not your buddy's beater practice loft. Foursquare tells me the venue holds 250, but with all the swaying and stomping at Dr. Dog's sold-out show the other night, I would have bet a higher number.
Five years has passed since I last saw the Philly boys play. Then, I felt more drunk under Fate's spell cast live than the questionably-obtained jaeger soaking my brain. They rocked.
A lot has filled those five years. Dr. Dog has released two full-lengths with another due next month. They toured heaps. Festivals absorbed them in countless bills like sexy, strumming hood ornaments. They matured. And so did their audience. (I've since lived in four different cities and am now legally allowed to purchase jaeger [although I never do]).
In the past half decade, too, that fan base swelled and spread—so much that Tuesday's show sold out in 30 seconds. Baseball caps, suits and normals alike packed Merc so tightly I still congratulate myself on shapeshifting my way to the front. Although the crowdedness bordered on uncomfortable, nobody looked it. A blanket beam shone from the ecstatic faces, illuminating the dudes on stage.
The band was stoked, too. A few members paid homage to all the festivals—perhaps just to irony—and slicked on plastic-framed sunglasses. The lights weren't bright enough to warrant their use. Perhaps it was all those grins.
The set zig-zagged across Dog's discography, starting with one from last year's Be The Void ("Heavy Light"), jutting back two years to crowd-crazer "Stranger."
"Hang On" possessed palms to smack each syllable of "I don't need a doctor" on plaid chests. The cut sounded tighter but more comfortable than when I saw it last in my small Florida beach town. No longer left with a trace of uncertainty in their bones, Dog stomped the stage as if they were headlining a personal family reunion. And in a way, the surprise show kinda was just that.
Sweaty arms cradled willing noggins into human macramé. The braid's components already knew the lyrics to "The Truth," the forthcoming B-Room's single. This track really sells me on a major group development—they finally have a fully actualized identity. I bought all my friends with summer birthdays in 2008 Fate because I qualified it a crowd-pleaser… then Dr. Dog reminded me of lovely, vanilla Beatlesphiles who sometimes wore rugged blue jeans. "Truth," though, allows some soul shine. Hips animated slowly along to the wispy organ saunter, vocals precipitated in a storm cloud.
They played at least two more B-Room tracks that evening: "Broken Heart" and "Distant Light." Both jammier than past releases, cooling greatly on the piano stomp. Songs swirled on and on and I wondered if the band surrendered to the paisley groove, letting the songs tack on extra minutes. I look around me and folks kept taking long blinks, like they might be in an especially mesmerizing Sunday service.
Dog drank Tecates and pint glasses filled with water (or maybe vodka? Who knows), soliciting requests. "County Line," an oldie from Toothbrush, won the shouting contest, raising dozens of iPhones and the inevitable Instagram video option. Finally I caught my first whiff of a few someones herbally refreshing themselves. Hopefully related, at that same moment, I found a lone oak leaf stowed away in my hair. Ahh, festival life.
Eighteen songs in, my watch read too-close to 1 a.m. The crowd hadn't thinned at all. The band showed no signs of slowing down, leading Mercury in heavier hypnosis. Thankful I'd yanked myself free to note the time—I work a day job, you know—I started the 20-minute crawl from the stage to the club exit.
Hardly any smokers breaking from the show stood outside. Everyone was still in there, still thrilled to be, too. I felt thrilled, too. Thrilled Dr. Dog can sell out a NYC venue in less than a minute. And thrilled after 15 years as a band—and endless changes, growth along the way—the crew could collectively chip a unique spot into Philadelphia's musical trunk right now, but also Americana as a whole for all time.
Check out photographer Charlene Chae's photos from the show in the gallery below.
Others Tagged With