Photos + Review: Matrimony - New York, N.Y.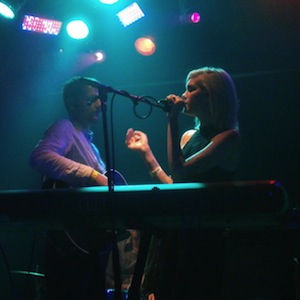 With just the right touch of southern rock and endearing folk roots, North Carolina's Matrimony took the stage at Santos Party House last night and made it their own. In a venue known for its frequent hip-hop shows and party-heavy crowd, it was a little surprising to see audience members who already knew the lyrics to opening track "To the Road"—although the incessantly catchy refrain "I could take a shot of you / I could take a shot of you" does lend itself easily to sing-alongs.
Like most good Southern imports, Matrimony are all about family—the five-piece folk rock group is composed of Ashlee Hardee Brown and her husband Jimmy Brown, who share duties fronting the band, along with Ashlee's two brothers CJ and Jordan and long-time friend Ethan Ricks. The camaraderie was palpable onstage as Ashlee and Jimmy took turns leading the harmony-driven tracks. Unlike one of their possible forebearers, The Civil Wars, there was no tension between the married pair as they traded lyrics and glances with gentleness and grace.
There was no through-line of gentle, pastoral reflections or smoky southern rock. Instead, Matrimony managed to encompass both—sometimes even within the same song. "Golden City" began with an awesome, lightly-picked banjo opener but grew into a steamroller chorus that tilts the song into anthem territory.
"Mecklenburg County Jail" gives Ashlee ample room to show off a vampy side on the swampy song full of longing and throaty promises of fidelity. Followed up by the berfet blues of the aptly named "Sorrow," the compact harmonies of the group blend in that seamless way that only families can really attain. Of course, Jimmy is only linked to the family by marriage, he originally hails from Belfast, Ireland. But despite his lack of southern upbringing, one of the songs he penned is called "Southern Skies," a tribute to the region that he now calls home. In fact, the track feels almost more poignant coming from him, an outsider, reflecting on the newly shared culture and region that informs most of the band's work.
Clearly, the relationship between Jimmy and Ashlee formed the impetus for the band, gave it the name, and spurred it to life, but CJ, Ethan and Jordan bring vivacity to the music. Jordan plays mandolin and banjo in turn, adding infinitely to the swelling acoustics of the group, while the basslines that Ethan delivers feel like barely restrained, growling animals. For his part, drummer CJ even took up an acoustic guitar for a song, proving that musicianship of all forms surely runs in the family.
Just off the release of their debut EP Montibello Drive the group is currently touring in support of the release and planning a full-length slated for January 2014. Even with a high-profile record deal on the table, Matrimony manage to make an opening set at Santos feel like the most important thing on their minds. It's closing track "Obey Your Guns" that cemented them as an act to remember—the impossibly catchy chorus soared over layered banjo and mandolin riffs that fit neatly into the powerhouse harmonies. It's this kind of live performance that will earn them recognition from critics, fans, and those who know passion when they hear it.