Photos: Savages - Seattle, Wash.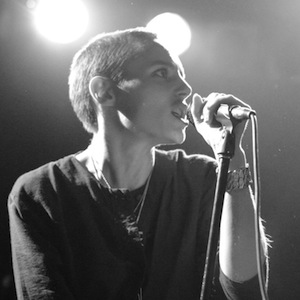 Jehnny Beth almost punched me in the face during Savages' set in Seattle. It was incredible.
Seething with dark feminine energy, she prowled around the stage, hands twitching like a witch until she stopped at the front of the stage. Whoosh. Her hands flew an inch from my face—her high-heeled, black clad figure towering above me screaming "SHE WILL! SHE WILL! SHE WILL!"
Savages are one of the rare bands that truly stands for something. Despite the darkness that runs through Savages' music and presentation, they are a positive force. Their songs are a call to action.
After rapturously almost getting clocked a couple more times by Beth before the band ended "She Will," I watched as the crowd went wild. The sold-out show loved Savages, and I suspect a lot of it has to do with the rebel yell the band isn't afraid to cop. In a city that was revealed to have the largest wage gap between men and women this summer, Jehnny Beth's howls of "SHE WILL!" felt like a clarion call. Seattle needed needed to hear Savages.
Check out photographer Allyce Andrew's images from Savages' show at Seattle's Neumos in the gallery below.