Photos + Recap: CMJ Music Marathon - Day Four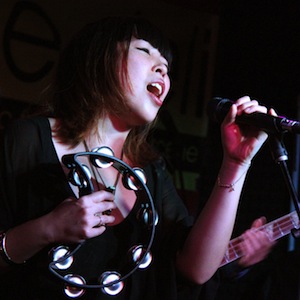 As the non-stop parade of up-and-coming bands continues here in New York City, here are a few of our picks from Friday's excellent selection of new music.
Pearl & the Beard
I kicked off my musical adventures on Friday with Brooklyn-based trio Pearl & the Beard, whose powerful harmonies and intense percussion are enough to jump-start a night of events for even the sleepiest journalist. The two female voices are less sweet than than they are primal, deep and loud and playing off of the lone male vocal in such a way that I think they'd have been equally forceful in an a cappella performance. That's not to say the instrumentals were any kind of an afterthought, though—from the stirring cello to driving drum beats, Pearl & the Beard gave a live performance that has me anxious for their forthcoming third album. —Dacey Orr
Sheppard
Look, there's nothing wrong with earnestness and enthusiasm. But when that kind of stage presence feels forced, it can be more than a little annoying, and that was the main problem with Aussie indie-pop group Sheppard. It felt a little like a group of high-school theater kids starring in a production of We Would Like to Be The Next Lumineers, which is a shame, because they actually had decent voices—if only they'd dial back the schtick and stop pulling faces. —Bonnie Stiernberg
Elle King
Look out for Elle King. Each of her songs, which mostly included candid lyrics about clingy men and assholes alike, was a raucous display of what can happen when you take sultry, sexy vocals away from the safety of Norah Jones-esque ballads and into real-life relationship woes. Those unfamiliar with King likely sang along with her energetic performance of "Playing for Keeps," which has been a hit on the small screen thanks to shows like Mad Men and Mob Wives. She charmed the crowd with covers, too, making R. Kellys "Ignition (Remix" her own and closing out with her infamous blush-worthy cover of Khia's "My Neck, My Back." Elle King is an absolute force to be reckoned with on-stage, in such a way that I'm both completely in awe of her badassery and also kind of want to be her best friend. —Dacey Orr
Nick Waterhouse
G-strings can be tricky. (Not that kind. The kind that goes on a guitar.) Nick Waterhouse was having problems with a particularly pesky one that refused to stay in tune at Webster Hall for most of his set before he ultimately decided to ditch it entirely. But the damage was minimal; Waterhouse was still able to wail through favorites from Time's All Gone as well as plenty of new material from his forthcoming album. He even departed the stage with a perfect scream when it was time to go—one so perfect, a peek at his set list revealed it had its own spot in the roster. —Bonnie Stiernberg
Lily & the Parlor Tricks
It's clear that Lily & the Parlor take their influences from the musical legends past, evoking '60s feel-good vibes from their coordinated outfits and choregraphed swaying to their highly expressive facials and deliberate theatrics. But this band isn't all presentation: as these three ladies sang in unison for a packed-out Living Room, the vocals were on-point, and I could see fans of vintage-inspired sounds like She & Him really latching onto this group. —Dacey Orr
Lee Fields and the Expressions
If you're a Charles Bradley fan but you've been snoozing on Lee Fields, stop what you're doing and fix that immediately. The soul man and his band, the Expressions, completely brought the house down at Webster Hall on Friday night, coming out for an encore and leaving fans saying things like "I keep thinking of Miley Cyrus at the VMAs and then this" as they exited. Fields tore through his original material and even busted out an incredible cover of the Rolling Stones' "Moonlight Mile"—which Fields announced he'll be performing in Cleveland soon at the Rock Hall's tribute to the Stones. A far cry from Miley indeed. —Bonnie Stiernberg
The Belle Game
Thank goodness things were running a bit behind schedule (or the CMJ website was wrong— it wouldn't have been the first time that day) at Piano's, or I never would have made it in time to catch Vancouver-based quintet The Belle Game, which became the set of the night for me. Frontwoman Andrea Lo's captivating vocals drew more and more passersby in to catch the upbeat performance, which would appeal to fans of Cults or GIVERS. I could see these guys really owning a bigger stage and winning over a festival audience. —Dacey Orr
Check out photographer Charlene Chae's photos from day four in the gallery below.