Photos + Review: Japandroids - Vancouver, B.C.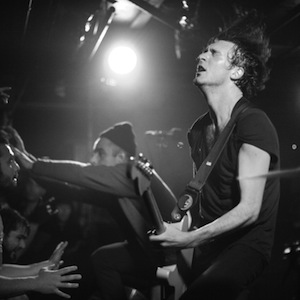 "Tonight is the last night you're going to hear some of these songs, after this we're retiring some old stuff for good. We're gonna take a break and work on, I don't know, another fucking record or something," Japandroids' Brian King grinned before announcing that the band would be ripping through the entirety of Post-Nothing and Celebration Rock to mark the occasion.
The crowd went bananas as the band ripped into "The Boys Are Leaving Town," an ironic beginning to Japandroids' sold-out homecoming show in Vancouver B.C. And boy, what a homecoming it was.
"Alright Vancouver, we talked to security tonight, and anything goes," King said. "We're going to have a ten second rule on stage, you can come up and do your thing for ten seconds, and then security will boot you off. Let's fucking do this Vancouver."
The crowd took King's words to heart, and what followed was an absolute shit show of glorious sweat-soaked anarchy. There wasn't one second during the show that someone wasn't surfing atop the crowd. Beer cascaded through the air, soaking fist-pumping Canadians like a punk rock Splash Mountain. Security escorted a man bleeding from his face out of the crowd. He smiled as he sat at the back, soaking his victory wounds in a bar towel and bobbing his bloodied head along to the music.
Back up at the front, people were beginning to get creative with this "ten second rule."
"This song is one of our hardest songs to sing, so help us out Vancouver. It's called the 'Night of Wine and Roses,'" King said.
Taking the request as literally as possible, a drunken reveler came on stage, took King's mic out of the stand, and sang half of the song himself as the crowd screamed along to the tune's anthemic chorus.
"I love it, Vancouver. I fucking love it," King said.
In the middle of one song, Japandroids stopped completely and turned to the singular fan onstage who was holding his iPhone aloft and smiling.
"Are you really taking a selfie right now?" King asked.
Yes. Yes he was taking a selfie.
As the night came to an end and Japandroids announced that this would be their last song, a mob descended on the stage, twenty or so people stumbling towards one last chance at glory.
"If you're all fucking onstage, are y'all ready to fucking do this shit?" King asked. "On the count of ten, we are all gonna jump off the stage at once."
On command, everyone Superman jumped out into the crowd, a human waterfall of joyous revelry.
That—that is how you do a homecoming show.
Check out photographer Allyce Andrew's images from the performance in the gallery below.
Others Tagged With