Song Premiere: Rubblebucket - "Came Out Of A Lady"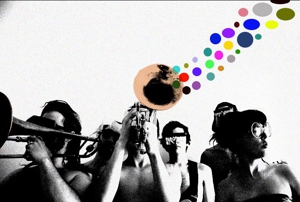 Armed with a charismatic sax-toting frontwoman who doubles as an expert whistler, as well as an ever-expanding stockpile of brass instruments, it's pretty much impossible for Rubblebucket's infectiously energetic pop not to get stuck in your head.
Hailing from Brooklyn, the eight to ten piece outfit thrives on awesomely dynamic instrumental breaks and Kalmia Traver's distinctive vocals that manage to shine on both the group's recordings and the stage. With track after track of ass-shaking jams, Rubblebucket's sophomore release, Omega La La, is packed full of grin inspiring messages that reinforce the the ridiculously named outfit's positive vibes and spontaneous tendencies.
As one of the LP's standouts, "You Came Out of a Lady"'s hilarious lyrics perfectly showcase Traver's buttery vocals, while allowing for the group's soulful instrumentation to highlight the song's silly tone.
Others Tagged With