Album Stream: Mister Heavenly - Out Of Love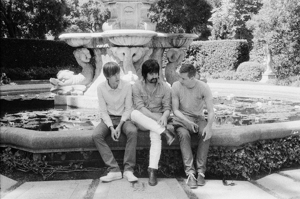 Ryan Kattner (Man Man), Nick Thorburn (Islands, The Unicorns) and Joe Plummer (Modest Mouse) fell together as if by fate to form supergroup Mister Heavenly.
Modest Mouse has toured with Man Man repeatedly since 2007, creating a fast friendship between Plummer and Kattner. Thorburn and Kattner (also known as Honus Honus) met during the end of Thorburn's time with The Unicorns and started playing together because they thought their voices would sound interesting together.
Their debut album Out Of Love from the superstar threesome shows off their foray into the self-created doom-wop genre. It sounds a bit like a Kattner's original project Man Man met up with the Beach Boys' Brian Wilson in a dark alley to play a mixed up concert. Funky guitar chords play alongside frenetic drums as the world's catchiest vocal choruses keep time. Tracks like "Diddy Eyes" and "Hold My Hand" have styles reminiscent of the golden oldies, taking hints from famed doo-wop groups such as The Platters. Tracks like "Doom Wop" revisits the experimental indie pop/rock sound that The Unicorns, Man Man and Modest Mouse were best known for.
Out Of Love, out on August 16 via Sub Pop, is a fun-filled ride through genres that makes doom-wop seem like a completely viable and totally exciting new venture. But don't take our word for it. Check it out for yourself by streaming the album below.
Others Tagged With