Album Stream: Quiet Company - We Are All Where We Belong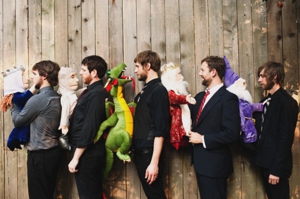 The piano-laced indie-pop of Quiet Company recalls influential bands such as Death Cab For Cutie, but the Austin-based quartet puts their own unique spin on that upbeat sound, sporting an inclination toward darker subject matter and a penchant for edgy, noisy arrangements that recall the likes of Spoon. The band is the brainchild of Taylor Muse, who formerly collaborated with fellow Texas indie band Eisley before he departed to focus on penning his own material.
According to Muse, We Are All Where We Belong, Quiet Company's fourth album (and third in just three years), is the most personal effort the band has released to date, the focal point being a serious inquiry into moral values and, more specifically, religion. Though Muse's inspiration for the album has specific origins, he keeps the message accessible and open to listeners' own interpretations, as the jaunty, hook-filled pop gems serve to evoke a feeling or emotion above all else, running the gamut from doubt, denial, grief and ultimately hope.
While Quiet Company's fourth album We Are All Where We Belong doesn't come out until next Tuesday, you can listen to the entire record here all this week.
Others Tagged With